Chiefs fall to Littlefield 53-7
The Friona Chieftains were held to 32 rushing and 150 passing yards by a tough Littlefield Wildcat defense. The Wildcats rushed for 348 yards and 100 passing as they beat the Chiefs 53-7 in the final home game of the season.
Eddie Garcia led Chieftain rushers with 15 carries for 29 yards. QB Mason Loflin completed 11 of 31 passes for 150 yards and a touchdown toss to Brad Stowers. Stowers caught 4 passes for 94 yards. Dallin Woods had 2 receptions for 21 yards.
The loss gives the Chiefs a 0-9 record, 0-4 in district. Friday they travel to Dimmitt for the final game of the season. The Dimmitt Bobcats are also 0-4 in district so the game will be a first district win for one of the teams. Go Big Red.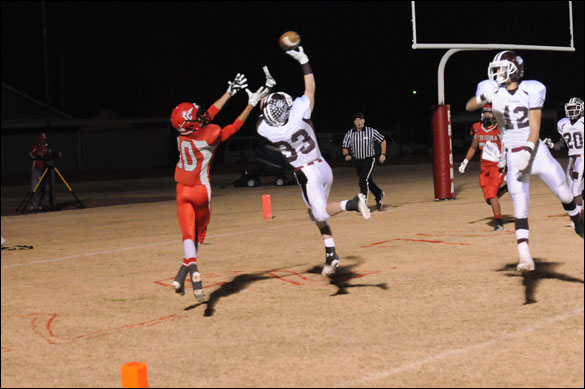 holly campbell photo
Almost a TD. Chieftain Justin "Slippy" Rocha (10) almost had a touchdown pass but the Littlefield defender managed to tip it away. The Chiefs lost to Littlefield 53-7. The final game of the season is Friday night at Dimmitt.