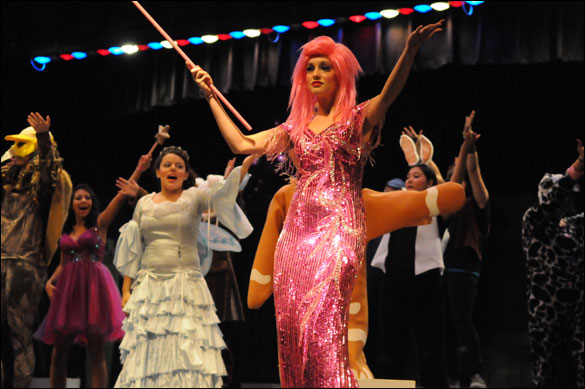 holly campbell photo
Believe it or not Mykelti Rhodes is a pink Dragon in Shrek the Musical. Mykelti is also the current Miss Friona. More photos from the musical by Holly Campbell and Ron Carr available at frionaonline.com.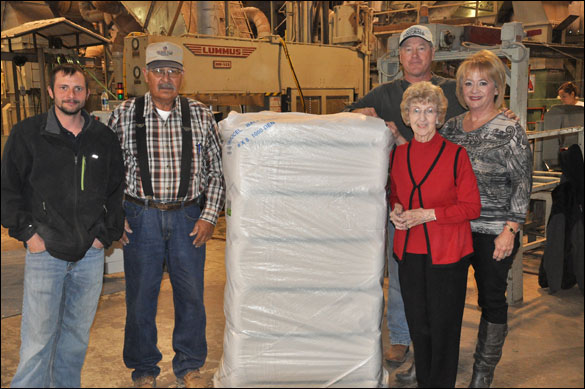 ron carr photo
The first bale of cotton at Friona Farmer's Co-Op Gin was delivered by the Carthel family this week. From left are gin manager Matt Lingle, Carthel farm manager Fidel Ortiz, and Don, Cindy, and Ann Carthel. The late Bill Carthel was one of the original founders of the Friona Co-Op Gin in 1962.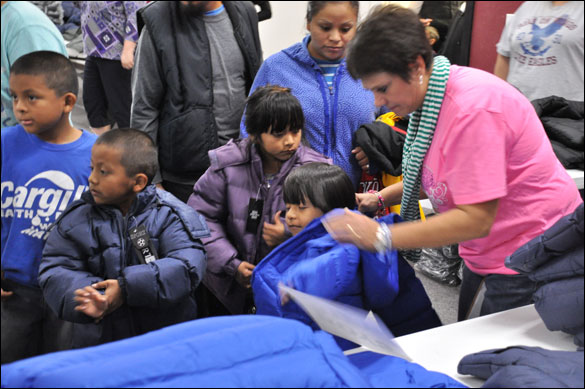 ron carr photo
The Victory Family Worship Center distributed 300 free coats last Wednesday during their annual Coats for Kids program.
Town Talk II
Ran through a carwash in Hereford Saturday and of course it sprinkled enough rain Tuesday to mess it up again. Shouldn't complain but would like to have had a bunch of rain.
*****
Talked with Dennis Detton at Detton's Furniture in Hereford this week. He is having a November mattress sale. (See the insert in this Star.) Dennis will be one of several candidates for County Judge in Deaf Smith County since Judge Tom Simons is retiring.
He said that the late income tax filing date in January hurts businesses like his. Folks cannot file until the end of January so their refunds don't arrive until February or March. Dennis said retail stores like his and many others rely on tax returns for sales and the late filing date means soft January/February sales. Interesting lesson in economics. (more...)
Council accepts Pope resignation
The Friona City Council met in regular session Monday November 4, 2013. No members of the public attended. Mayor Rick White presided.
After approving the minutes, the council approved a resolution to oppose another Atmos Energy rate increase request. (more...)
Parmer Medical Center employees have set up a love fund for Delia Jackson. Delia underwent brain surgery this week and will have a second surgery as soon as next week. She is a CNA at PMC. The love fund is at Friona Interbank and any donations to assist with expenses will be appreciated. (more...)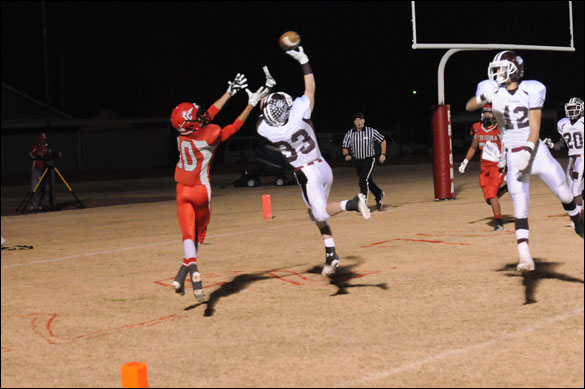 holly campbell photo
Almost a TD. Chieftain Justin "Slippy" Rocha (10) almost had a touchdown pass but the Littlefield defender managed to tip it away. The Chiefs lost to Littlefield 53-7. The final game of the season is Friday night at Dimmitt.
Chiefs fall to Littlefield 53-7
The Friona Chieftains were held to 32 rushing and 150 passing yards by a tough Littlefield Wildcat defense. The Wildcats rushed for 348 yards and 100 passing as they beat the Chiefs 53-7 in the final home game of the season.
Eddie Garcia led Chieftain rushers with 15 carries for 29 yards. QB Mason Loflin completed 11 of 31 passes for 150 yards and a touchdown toss to Brad Stowers. Stowers caught 4 passes for 94 yards. Dallin Woods had 2 receptions for 21 yards. (more...)