Kenneth Williams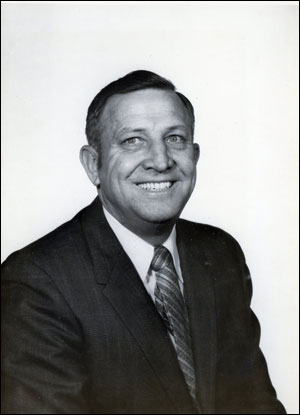 Kenneth Williams, resident of Kerrville, Texas for 17 years, died in the early morning hours of April 25, 2013. He was born in Shamrock, Oklahoma on October 26, 1922 to George Williams and Grace (Fenter) Williams.
Kenneth served in World War II as a Staff Sergeant in the Army Air Force, European Theater 9th division for three years. After the Air Force he returned home, met and married th love of his life Matta (Mickey Coggins) on October 21, 1947 on the "Bride and Groom" ABC radio program at Chapman Park Hotel in Los Angeles, California. They were married 65 ½ years.
Kenneth was a successful small town merchant, owning and operating: Tasty Cream Drive-In, Ben Franklin Variety Store, and the Sears Catalog store, which he retired from. He was also community-minded, serving as Lions Club president, city council, credit union, volunteer fireman, and Salvation Army representative in Friona, Texas. He was a 32nd degree Mason and while operating the Sears Catalog store he helped build the Masonic Lodge building in Cordell, Oklahoma.
He would tell you the most important decision he made in his life was when he accepted Jesus as Savior at the First Baptist Church in Stratford, Texas in 1964.
Survivors include his wife Matta R. Williams; one sister, Billie Kingston of Long Beach, California; two sons, Ronald R. Williams and wife Marian of Queensland, Australia, and David G. Williams of Harper; one daughter, Terri M. Wilson of Amarillo; three grandsons, Joe Dan Wilson of Amarillo, Kade David Williams of Harper, and Mason Gramling of Luckenbach; three granddaughters, Elizabeth Rose Williams of Austin, Kristen Wilson of Amarillo, and Meagan Gramling of Victoria.
He was preceded in death by his parents, sisters Opal Maynard, Alma; brothers Harvey and Glenn Williams, and son-in-law Eddie Wilson.
Arrangements by Wright's Funeral Parlor. Burial was in Odessa Cemetery in Gotebo, Oklahoma.