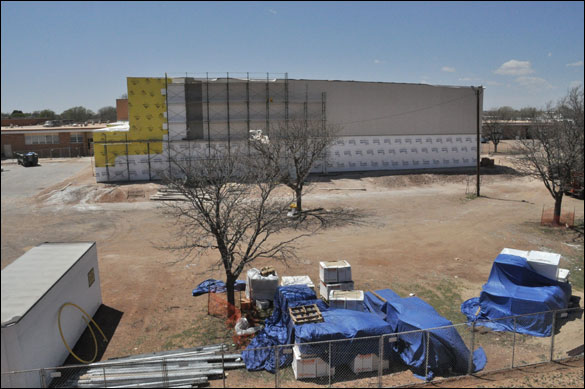 ron carr photo
A view from the top of the home side bleachers shows progress being made on the high school activity center. Brick work has begun on the north side of the building. Bricks will be laid up to 14 feet with siding the rest of the way. At left is the present gym entrance and the cafeteria.
courtesy photo
FHS Faculty member of the month: Mary Ortiz
Mary Ortiz goes beyond the call of duty. She is our official translator. She has volunteered numerous hours translating parent meetings, phone calls, and student conferences. She gives passionate advice to students during meetings and tries to help them overcome any obstacles that they may face. She gives help to parents and to teachers over any issues. She once found a babysitter for a student who did not have anyone to take care of their child. She is very knowledgeable about the town and how to contact people. She finds a way to get phone numbers of parents. She knows people who know people who will get the message to their family. She is not afraid to try new things. She has learned to use a spreadsheet and help out making various forms for the Assistant Principal. She stays extra hours for translating after school. She volunteers and stays for after school meetings to translate. She also lets us know if any situation occurs around a student that we may not know about. She is committed to helping all students achieve their goals – whether that be admission to a college or university or helping them to pass high school.
by Ron Carr
Official weather guy John Gurley sent his April weather report in by text message, not surprising since there isn't much to report. He said we had .05" moisture in April and 1.69" so far in 2013. In the 90s Monday and Tuesday and a cold front arriving Wednesday and Thursday. It is a wonder we are not all sick.
*****
Someone called the office this week to tell us a Google street view truck was driving around town, I guess mapping our tiny village. I went looking but couldn't find it. Guess your home may be on Google maps by now. Sort of scary huh?
*****
Early voting started Monday and continues through Tuesday May 7. As of Tuesday morning, 56 people had voted at city hall and 59 at the school admin office. Seems like a good turnout for one day of early voting. If you miss early voting, the election is Saturday May 11 at 619 Main St. The public forum held April 18 for all candidates will be shown Sunday May 5 at 2:30 p.m. on WT Services channel 76. (more...)
Chew on This tour visits Friona
By 2050 the world will need 70 percent more food than we produce today!
About 140 people attended an exciting, one-of-a-kind event at Hi-Pro Feeds on Monday April 29 in collaboration with Elanco and Nutra Blend. The Chew of This Tour featured two custom built trailers, one a high-tech movie theater on wheels and the other a BBQ kitchen of wheels.
This unique road show is stopping at feed mills all around the country, spreading the word about world hunger and sustainable food production. Participants enjoyed a hearty BBQ meal, watched a film hosted by Bill Goldberg, former NFL lineman and champion wrestler, and tested their knowledge on interactive kiosks. (more...)
Friona FFa members attended the Littlefield District banquet Tuesday, April 30 in Farwell. The Friona members were recognized for their efforts at the district level for participation at District Leadership Development events held in November and District Career Development events held in April.
Also at this meeting Tyler Hough ran for District FFA office, Coke Capshaw ran for Area 1 FFA office and Sawyer Osborn was elected the Littlefield District representative to run for State FFA office at the Area 1 FFA convention in Amarillo May 17-18.

Tyler Hough was awarded the Littlefield District Star Greenhand in Agribusiness and will compete at the Area 1 FFA convention for the Star Greenhand in Agribusiness at the Area and advance to state sat the state convention in Dallas in July.
Jacob Osborn and Blake Stowers applications were also accepted and they will receive their Lone Star FFA Degree this summer at the State FFA convention. (more...)