Friona FFa members attended the Littlefield District banquet Tuesday, April 30 in Farwell. The Friona members were recognized for their efforts at the district level for participation at District Leadership Development events held in November and District Career Development events held in April.
Also at this meeting Tyler Hough ran for District FFA office, Coke Capshaw ran for Area 1 FFA office and Sawyer Osborn was elected the Littlefield District representative to run for State FFA office at the Area 1 FFA convention in Amarillo May 17-18.
Tyler Hough was awarded the Littlefield District Star Greenhand in Agribusiness and will compete at the Area 1 FFA convention for the Star Greenhand in Agribusiness at the Area and advance to state sat the state convention in Dallas in July.
Jacob Osborn and Blake Stowers applications were also accepted and they will receive their Lone Star FFA Degree this summer at the State FFA convention.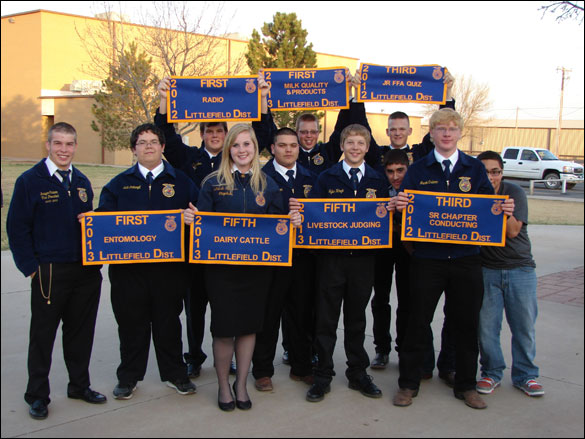 courtesy photo
Friona FFA members attending the district banquet were, l-r, Sawyer Osborn, Seth Fothergill, Coke Capshaw, Amy Osborn, Juan Samarron, Dan O'Brian, Tyler Hough, Armando Flores, Blake Stowers, Jacob Osborn, and Hector Garcia.