Chew on This tour visits Friona
By 2050 the world will need 70 percent more food than we produce today!
About 140 people attended an exciting, one-of-a-kind event at Hi-Pro Feeds on Monday April 29 in collaboration with Elanco and Nutra Blend. The Chew of This Tour featured two custom built trailers, one a high-tech movie theater on wheels and the other a BBQ kitchen of wheels.
This unique road show is stopping at feed mills all around the country, spreading the word about world hunger and sustainable food production. Participants enjoyed a hearty BBQ meal, watched a film hosted by Bill Goldberg, former NFL lineman and champion wrestler, and tested their knowledge on interactive kiosks.
"We were very excited to host this event," said Varla Wilcox, Hi-Pro marketing coordinator. "It was an amazing opportunity for our customers and employees to get together and get fired up about what we do for a living. They all play an important role and the products we sell play an important role, in meeting the challenge of feeding a hungry planet."
Some of the eye-opening information from the film: 1) 870 million people worldwide don't get enough food; 2) the global population is expected to grow to more than 9 billion by mid-century; 3) by 2050 we will need 70 percent more food, most of it will have to come from efficiency-enhancing products and technologies; 4) the carbon footprint of a gallon of milk has decreased by 63 percent since 1944. One cow today produces as much as five cows did back then.
Nutra Blend is the leading distributor in the U.S. of feed micro-ingredients including vitamins, minerals, and other nutrients. Elanco is a global leader in animal health and a division of Eli Lilly and company.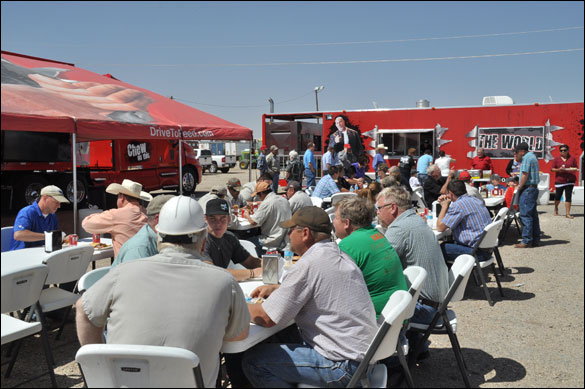 ron carr photo
The Chew on This Tour stopped at Hi-Pro Feeds Monday. Visitors had the opportunity to watch a brief movie on food production and dine on BBQ