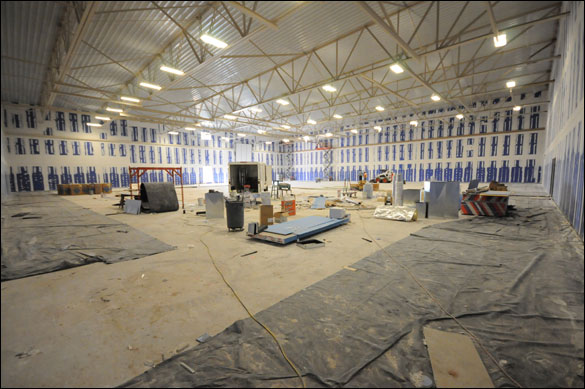 ron carr photo
Here is an interior view of the new activity center under construction at Friona High School. The Noon Lions Club had a tour of the building hosted by Superintendent Kenny Austin during their June 6 meeting. The project is ahead of schedule and should be completed by October.
Gary Brown will celebrate 50 years at Friona State Bank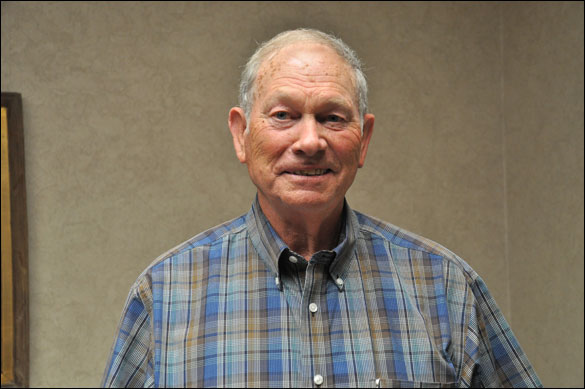 Friona State Bank, soon to be named Friona Interbank, invites their friends and neighbors to help celebrate Gary Brown's 50th anniversary with the bank.
They are kicking off a celebration of President Brown's anniversary as well as a name change by hosting a sausage wrap on Friday, June 21, from 11:30 a.m. to 1:30 p.m. on the grounds of the bank.
"Gary has been active in just about every part of our community since his move to Friona," said bank spokesperson Marca Herring. "We encourage you to stop by and join in our special celebration." (more...)
by Ron Carr
I was absent when the rain and hail storm hit Wednesday evening. Was in Denton to attend a grandson's high school graduation. Based on the number of vehicle windows, home windows, skylights, and roofs damaged, guess I was fortunate to be absent. Highway 60 flooded on the west side of town causing many stranded vehicles. Friona police were wading in cold water to push cars out of the roadway.
*****
The Chieftain golf tournament scheduled last weekend was canceled due to the hail and rain storm that closed the course. It is rescheduled to this Saturday, June 15. Tee time is 9:00 a.m. 4-man scramble, $240 per team. Music, burgers, prizes. A fundraiser for Chieftain football camps. Several openings so get a team together and have some fun. For more info call Coach Mike Prokop at 575-760-8998. (more...)
Body found in field south of town
On Monday, June 10, Randy Boeckman was plowing a field on the west side of south Hwy 214 just beyond the overpass when he spotted what turned out to be the body of a male. The Department of Public Safety's helicopter, a Texas Ranger, Sheriff Geries and his deputies, and the Friona police converged on the scene. (more...)
City warns against dumping shingles
With the hail damage from last week now being assessed, Friona city manager Patricia Phipps reminds residents and roofers that the City of Friona does not have a landfill for disposing of shingles. No shingle dumping will be allowed in the city roll off box. (more...)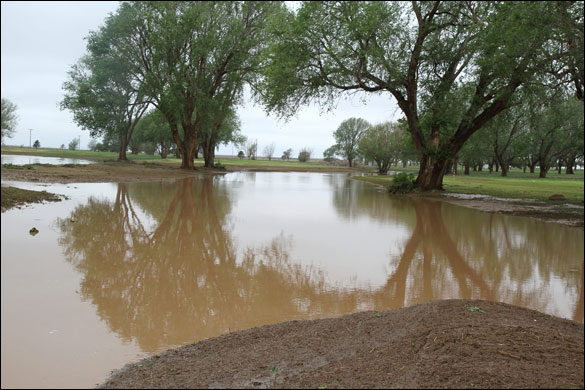 dr gary cash photo
Frio Draw through the golf course Thursday....actual water hazards.