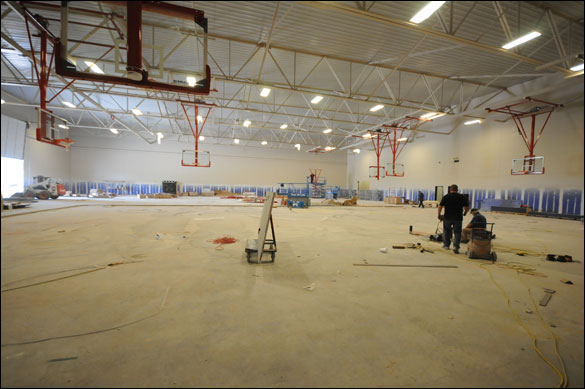 ron carr photo
Work continues on the gym/activity center at the high school. Workers were hanging 12 basketball goals, building a batting cage, and installing posts for volleyball nets this week. The overhead door at left is on the west side of the building. The work crew was here from the Waco area and said they would be here about three weeks completing their part of the construction.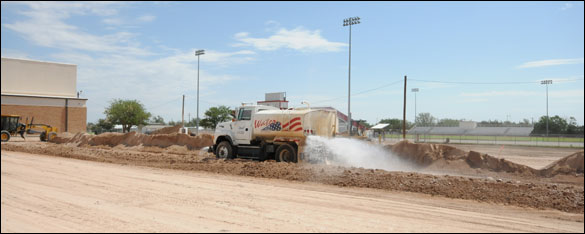 ron carr photo
Water trucks and road graders were busy last week working the dirt for rebuilding the parking lot at the high school. The expansion will add about 45 more parking spaces to the old parking area.

Town Talk II
by Ron Carr
Cool temperatures and rain, a good combination for July. Friona received about .30" of rain Sunday overnight. Temperature Monday was cool in the upper 60s and low 70s. As of 8 a.m. Wednesday Friona had received .61" overnight for a total in July of 2.16". However, folks like Mike Blackburn said they had over 2-inches in the gauge Wednesday morning. No matter how much you received where you live it is all needed and appreciated. More rain forecast off and on through Thursday. (more...)
Gurley to be full time county prosecutor
The regular meeting of the Friona city council was held Monday July 8 in council chambers at 619 Main St. All members were present. City manager Patricia Phipps, deputy city secretary Rosa Mendez, and city attorney Slater Elza were also present.
A public hearing for comments on the city's water quality report was called but no members of the public were present to comment. Mayor Rick White asked city manager Phipps if city water was safe and she assured him and the council it was. (more...)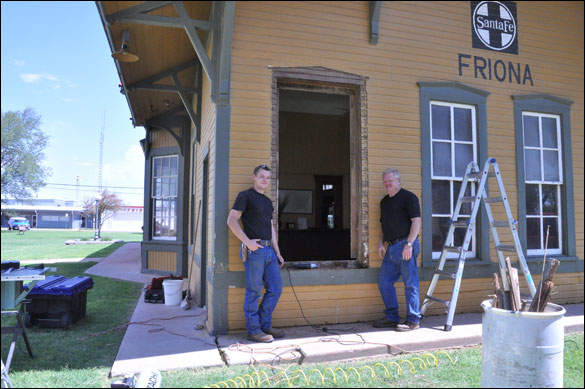 ron carr photo
Bobby Thompson and his son Collin have begun installation of new windows at the Depot in City Park. The old windows with their wooden frames have been damaged over the years and were leaking and allowing dust into the depot. Donations are being accepted at Friona Interbank to help with the new windows. Checks can be made payable to the Community Heritage Society. Several nice donations have been received but more are needed.