Cool temperatures and rain, a good combination for July. Friona received about .30" of rain Sunday overnight. Temperature Monday was cool in the upper 60s and low 70s. As of 8 a.m. Wednesday Friona had received .61" overnight for a total in July of 2.16". However, folks like Mike Blackburn said they had over 2-inches in the gauge Wednesday morning. No matter how much you received where you live it is all needed and appreciated. More rain forecast off and on through Thursday.
*****
Bobby Thompson and his son Collin (who turned 20 this week) began installing new windows in the Depot in the Park. The Community Heritage Society is still seeking donations to help with the cost of replacing all of the windows in the historic landmark. Several donations have been made but additional funds are needed. To donate, go to Friona Interbank and make checks payable to the Community Heritage Society.
*****
Need scissors or anything sharpened? Someone will be at Malouf's Fabrics on Tuesday July 23 from 10 am to 5 pm for sharpening. You can drop them off anytime before then.
*****
Anniversaries: Dr. Jeff and Becky Dickson 22 years. Mark and Deirdre Osborn 28 years. Robert and Marie Saiz 30 years. All celebrating in July. Congrats to each and every one. Let us know if you have an anniversary to share.
*****
The Class of 1973 will have a 40-year reunion the Friday and Saturday of Maize Days weekend, September 20-21. Carolyn Wiseman will have details. I'm told the Class of 1993 will have a 20-year reunion this weekend at the Cheeseburger Cook-Off.
*****
The Friona city swimming pool will close for the season on Saturday August 10.
*****
We visited the new gym/activity center last Friday. Took a few photos for this week's paper. Workers were here from the Waco area installing the 12 basketball goals, a batting cage, and volleyball net posts. Work is also progressing on repaving the high school parking lot which will add about 45 more parking spaces. And many men have been on the high school roof installing new air conditioners.
*****
Two-a-days, which are no longer actually two-a-days, for football and volleyball will begin on Monday August 5. Volleyball coach Darrell Ray says practice begins at 8 a.m. August 5. Athletes must have completed physical packets. Football players will have a team meeting at 7 p.m. Friday August 2 in the gym for grades 9-12. Football practice will start at 7 a.m. the first week and 2:30-6:30 p.m. after that. Scrimmages will be at Panhandle and at Shallowater this year on August 17 and August 22. First game is August 30 at 4:30 p.m. at Dick Bivins in Amarillo vs. Stratford.
*****
The summer drama workshop wraps this weekend with public performances. See the front page story for details. As always we went by rehearsals this week to take photos which are in the paper. Lots of out of town kids come to visit and take part. They are all working hard. Elementary play director Allison Johnston has about 46 little ones to try and turn them into an organized musical. I'm always amazed at her ability to turn 46 energetic little tots into a musical production. Come out and enjoy the plays and support the workshop.
*****
Don't forget about the basketball, volleyball, and cheerleader camps that begin the week of Monday July 29. Info can be found on the July event calendar in this week's Star.
*****
A look ahead to Maize Days. Little different schedule this year. The Miss Friona pageant will be Saturday September 7. The Little Miss Friona pageant will be Tuesday September 17, homecoming is September 20 vs. Idalou, and the big Maize Days parade and city park celebration is Saturday September 21. Girls interested in entering the Miss Friona and Little Miss pageants can sign up at the Chamber office.
*****
There is talk about some sort of consolidation of the Amarillo, Lubbock, and Midland post office processing centers into Lubbock. Here in Friona we have a mail truck that hauls our mail to Amarillo and back. A consolidation would mean hauling local mail to Lubbock and back. I'm thinking if that happens some of our out of town and out of state subscribers might see a delay in receiving their Friona Star. We will wait and see.
*****
We've heard that radio station KNNK in Hereford is planning to broadcast Chieftain football games this year. They are rounding up advertising sponsors and looking for announcers. They also have plans to broadcast some basketball and baseball games too we were told. Will let you know when we find out more.
*****
A Facebook posting says the Parmer County Sheriff's Office is in possession of five horses which were seized by court order. A public auction received no bidders. The horses are subject to euthanasia if they are not placed with new owners. Interested persons should contact the Sheriff's Office at 295-3303.
*****
Hope to see you at the park Saturday. I'll be there with the Lions Club cooking French fries and wandering around taking some photos and nibbling on cheeseburgers. Don't forget to send us your news items and keep in touch. Until then!
*****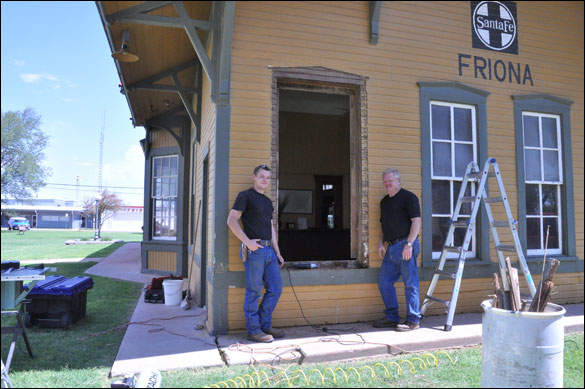 ron carr photo
Bobby Thompson and his son Collin have begun installation of new windows at the Depot in City Park. The old windows with their wooden frames have been damaged over the years and were leaking and allowing dust into the depot. Donations are being accepted at Friona Interbank to help with the new windows. Checks can be made payable to the Community Heritage Society. Several nice donations have been received but more are needed.