Paula H. Salazar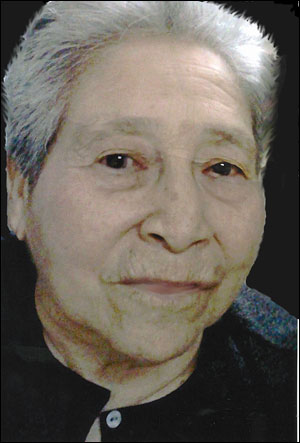 Paula H. Salazar, 79, of Friona, died Thursday July 11, 2013, in Friona. Rosary was recited at 6:00 p.m. Sunday July 14, 2013 at Blackwell-Mullins Funeral Home in Friona. Graveside services were held at 11:00 a.m. Monday July 15, 2013 at Bovina Cemetery with Rev. Larry Mitchell of Bovina United Methodist Church officiating. Arrangements by Blackwell-Mullins Funeral Home of Friona.
Paula was born January 15, 1934, in La Feria, Texas to Mike Hernandez and Julia Guerra Hernandez. She married Guadalupe V. Salazar, Sr. June 28, 1965, in Farwell, Texas. She was a homemaker and a member of St. Ann's Catholic Church.
She was preceded in death by her parents; two sons, Ruben Salazar and Guadalupe Salazar, Jr.; and three sisters, Juana Sanchez, Elva Hernandez, and Simon Ares Mendez.
Survivors include her husband Guadalupe V. Salazar, Sr. of Bovina; one daughter, Carol Ann Ortiz of Bovina; three sisters, Elodia Hernandez, Santos Salazar, and Beatrice DeLaRosa, all of Bovina; two brothers, Ernest Hernandez and Daniel Hernandez, both of Bovina; seven granddaughters and sixteen great-grandchildren.
You can sign the register book online at blackwellmullins.com.
Esther Holland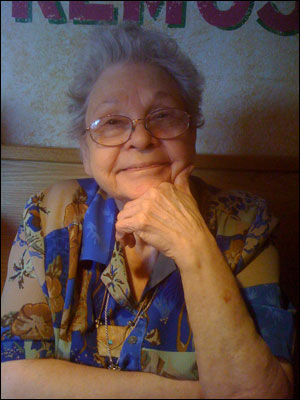 Lella Esther Holland, 86, of Lubbock, formerly of Denver City, passed away Tuesday July 16, 2013. Memorial services are scheduled for 3:00 p.m. Saturday, July 20, 2013 at Combest Family Memorial Chapel.
She was born March 11, 1927 in Holder, Texas to William Osborn (W.O.) and Rose Lee Mattie Maude Byrd. She graduated from Williams High School near Brownwood. Esther married Worth Layfette (Joe) Holland November 29, 1946 in Lowell, Arizona. He preceded her in death on January 9, 1979.
Esther and Joe were Denver City residents beginning in 1949. Joe and his brother Johnnie Ray operated Holland's Conoco Service Station on the corner of Broadway and Main. Mrs. Holland served as Justice of the Peace for Yoakum County Precinct 2 until her retirement in 1994. She was known as a fair and impartial judge who yielded her gavel in an honest and caring way. She was a member of the Order of the Eastern Star, Denver City Chapter #863.
She is survived by a brother, Leo Vandoil Byrd and wife Ozell of Comanche; one daughter, Linda Sue Knowles and husband Larry of Friona; grandchildren, Rachael Schulle and husband Kevin of Tuscola, Amy Stovell and husband Chad of San Antonio; great-granddaughter, Ashlyn Kate Schulle; and sister-in-law Virginia Holland of Denver City.
Celebrate the life of Esther by visiting www.combestfamilyfuneralhomes.com.