Chiefs season opener Friday vs Stratford
The 2013 Friona Chieftains travel to Dick Bivins Stadium in Amarillo Friday August 30 for their season opener with the Stratford Elks. Game time is 4:30 p.m. Friona will be the home team.
Head coach Mike Prokop and his staff have had a chance to evaluate the Chieftains after scrimmages with Panhandle and Shallowater. The coach says they still have a lot of work to do but with several skill players returning with another year of experience they expect to improve over the 1-9 record last year.
Junior quarterback Mason Loflin will be tossing to receivers like senior Brad Stowers and sophomore Dallin Woods. Senior Jacob Osborn will be in the center/defensive lineman rotation. Edgar Guerrero, a state powerlifting competitor will anchor the defensive line.
There were reassignments on the coaching staff as well. The coaches and their assignments are Creighton Henderson, offensive coordinator and quarterbacks; Styler Haddock, running backs; Chris Ruckman, receivers; Ross Prokop, offensive line; Daniel Hutchins, defensive line; David Towner, outside linebackers; David Woods, secondary; and head coach Mike Prokop, inside linebackers.
Coaches Ruckman and Hutchins will also coach the JV Chiefs. The junior high football coaches are Nick Gonzales and James Andrews.
The Chiefs have an open date next week, then travel to River Road September 13 and host Idalou September 20 for homecoming.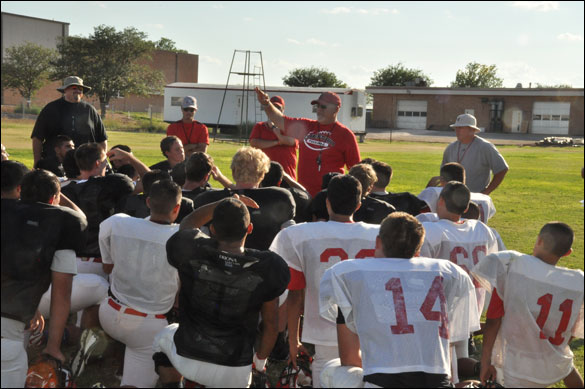 ron carr photo
Head Coach and Athletic Director Mike Prokop talks to the Chieftains at the end of Monday's practice. The boys and coaches have been working hard to prepare for the 2013 season. Opening game is Friday August 30 vs. Stratford. Game time is 4:30 p.m. at Dick Bivins Stadium in Amarillo. Friona is the home team. Go Big Red.