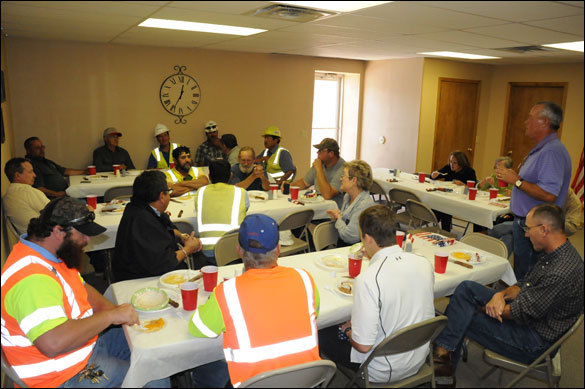 ron carr photo
The City of Friona held an appreciation luncheon Monday for the Duininck Co. workers that have been working on Hwy 60 for the past few months. The work will be completed by the end of October. Mayor Rick White, right, expressed the city's appreciation for the courtesy, efficiency, and professionalism the crew has shown during the construction.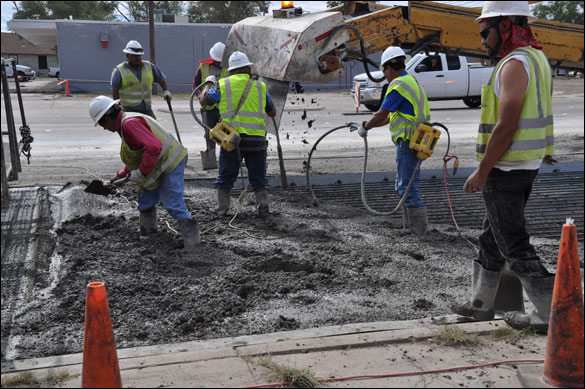 dana jameson photo
Workers on the Hwy 60 construction project finished the pouring and smoothing of the cement on the north side of the highway this week. The project should be completed by the end of October.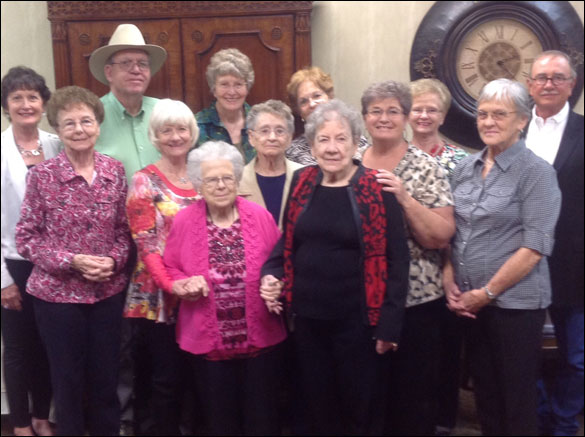 courtesy photo
On October 17, 2014, a number of people gathered at Park Tower Place in Amarillo to help celebrate Valoris Osborn's 95th birthday. Valoris was a resident of Friona many years before moving to Amarillo. The surprise event was hosted by her family. In attendance were, back row, l-r, Karen Renner, Gary Renner, Elizabeth Gore, Lunell Horton, Peggy Monroe, Jim Bob Jones. Front row, l-r, Margaret Duggins, Sharon White, Tiny Taylor, Ruth Miller, Valoris Osborn, Vernie Schacher, Pat Martin.
If you have a calendar and you are a blood donor mark Thursday November 6 as the date for the next Friona blood drive, 12:00 - 7:00 p.m. at Calvary Baptist Church. We will provide more details in next week's Star. If you have never donated think it over. Give the gift of life.
*****
Next week is Red Ribbon Drug Free Week in Friona Schools. The Friona primary and elementary school activities will be: Monday - We will 'knot' do drugs, wear scarves or ties or interesting shoelaces; Tuesday - Put a lid on drugs, wear hats or caps; Wednesday - Color your world drug free, wear bright colors; Thursday - Shade out drugs, wear sunglasses; Friday - Team up against drugs, wear red or shirts/jerseys of your favorite team. (more...)
St. Ann's turkey dinner Nov. 2
St. Ann's Catholic Church in Bovina will be hosting their annual Turkey Dinner on Sunday, November 2 from 11:30 a.m. to 2 p.m. in the parish hall at 401 3rd Street.
They will be serving turkey and dressing with creamed potatoes and gravy, green beans, homemade bread, cranberry sauce, relish plate and dessert. Adult tickets are a $10 donation and a $5 donation for children under six. Take out plates will be available at no additional charge. (more...)
The Chieftains were bruised and battered Friday night by the Muleshoe Mules in a district contest at Muleshoe. The Chiefs lone score came in the 4th quarter on a Gabriel Chico touchdown and Juan Macias extra point. The Chiefs leading rusher, Chico was held to 48 yards on 12 carries by the stubborn Mule defense.
Quarterback Dallin Woods completed only two of ten pass attempts for five yards. The Mules outgained the Chiefs on offense 495-98 yards. (more...)
Squaws lose 0-3 at Dimmitt
From Coach Bryan Masse
On Saturday the Squaws traveled to Littlefield where they swept the Lady Cats.
The C team used good serving to put the Lady Cats on edge and finished with good team play. The C team won 2-0 and moved to 3-0 in district play. (more...)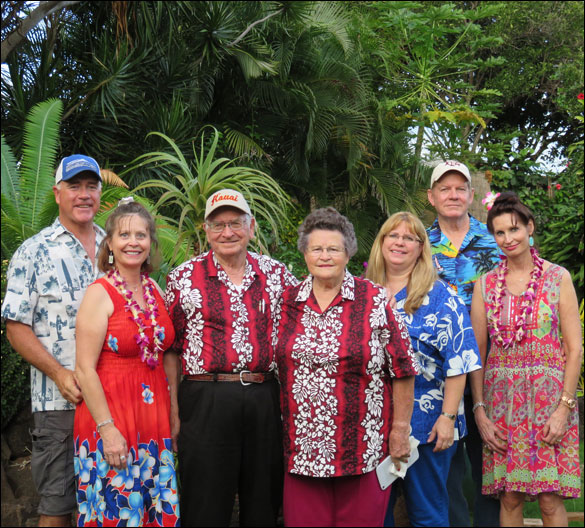 courtesy photo
Dale and Laura Hart celebrated their 60th wedding anniversary with a family trip to Kauai, Hawaii. From the left are Danny and Holly Campbell, the Harts, Evelyn Romero, and Troy and Karene Bass. They enjoyed the beach, touring the island, and attending a luau. Holly, Evelyn, and Karene are the Hart's daughters.