I'm a little late with this info. Bi-Wize Pharmacy has started closing during the lunch hour 12-1pm. Just the pharmacy, not the whole store. Also if you or someone in your family takes the pain killer Hydrocodone, the rules for getting a prescription are changing as of Monday October 6, making it more difficult get the drug. Ask Andy at the pharmacy for details.
*****
Band boosters meeting Monday October 6 at 6:30 p.m. in the high school band hall. The boosters will be finalizing plans for the week of the band's marching contest. All parents and boosters are urged to attend.
*****
The Chamber of Commerce awarded scholarships to the top participants in the Miss Friona pageant. Miss Friona Kendall Barnett receives a $1,000 scholarship. Arianna Moreno, 1st runnerup, receives a $700 scholarship, and Christina Green, 2nd runnerup, receives a $500 scholarship. Receiving a $100 scholarship were Karina Hernandez (3rd place), Courtney Bunker (4th place), Arianna Moreno, talent winner, and Kim DeWit Miss Congeniality. Thanks to all the girls who participated in the pageant.
*****
The Friona United Methodist Church will have a special 100 year anniversary church service Sunday October 9 at 10:45 a.m. A catered luncheon will follow. They also are offering a cookbook with the church history for $30, plus $5 shipping if you want it shipped. To RSVP for the luncheon and/or order a cookbook call the church office at 806-250-3045.
*****
Flu shots will be given at the Senior Citizen building, 1400 Washington, on Thursday October 9 from 11:00 a.m. to 1:00 p.m. If you have Medicare the cost will be covered. For others the cost is $29.00. Medicaid will not cover the shots at the Senior Center. Medicare and Medicaid will cover shots at the Friona Rural Health Clinic. For others the shots at the clinic are $29. For more info call Rhonda Wilkins at 806-250-2754 or Susie Spring at 806-250-2781. Flu shots will not be available at the Bi-Wize Pharmacy this year.
*****
The Maize Days parade will be held Saturday October 4 beginning at 10th and Main at 10:00 a.m. After the parade a Pumpkin Patch will be available at the Milk House Market, 1017 Main St, Main and Hwy 60. Great opportunity to get your yard decorations and Halloween pumpkins.
*****
The Friona volunteer firefighters will be selling raffle tickets and sausage wraps at the city park Saturday. Tickets to win the 4-wheeler and trailer are $10. The sausage wraps are usually a buck or two and they are very good. In the past they've had spicy and regular. Stop by their booth next to the Old Depot and support our local fire department.
*****
Enjoyed a visit with a couple of folks from the past this week. Marlene Mueller, who was employed at the Star for 20+ years, stopped by last Friday. She and Joe are retired and living in north Amarillo enjoying life. She said they bought a Mini-Winnebago and do some traveling. Marlene was in town to visit with her sister Mayme Gee who is in ill health in the hospital. It was good to see you and hug your neck Marlene.
After 13 years in the US Navy and two years living in Idaho, David Woody has returned to Friona. He is married with two kids now. Years ago when he was in high school and walked home after school he would often stop by the Star office and visit with me and Marlene. He stopped by Monday again to say hello. Thanks for your service David. You done good.
*****
Memorial services for Raymond Auburg will be Friday October 3 at 10:00 a.m. at Victory Family Worship Center. His daughter Cindy says he loved John Deere so feel free to wear something John Deere green in his honor. He passed away Monday September 29.
*****
How many plastic bags are used in California in a single day? Well Governor Jerry "Moonbeam" Brown just signed a law banning plastic bags in California effective in July 2015. The bill allows stores to charge for reusable or paper bags. Plastic bag manufacturers say it will result in a loss of jobs in California. (San Francisco and Los Angeles already have a ban on plastic bags.) Here in Texas, Austin has banned plastic bags and Dallas is talking about it. My son Zac lives in Austin. Guess I should ask him how the ban is working.
*****
I stopped by Heritage Estates Sunday afternoon for Mr. Kenneth Carson's 96th birthday party. He is Sherry Atwell's dad. Was good to see Kenda Dunnam and daughter Keeley and Shannon Bullard. Kenda and Shannon are Mr. Carson's granddaughters and Keeley is a great granddaughter. It was a four generation party with cake and ice cream. Enjoyed the visit.
*****
At the Little Miss Friona pageant Pedro Ramos asked Little Miss escort Abram Rocha if he was glad he was an escort. He got some laughs from the audience when he said "no". Reminded me of what they taught us when I worked in airline reservations: never ask a yes or no question.
*****
Monday October 6 is the last day to register to vote in the November 4 election. Early voting is October 20-30 in Farwell. Early vote days at Friona Interbank will be October 21, 23, 24, AND 30. You can register to vote at FreeVotersGuide.com.
*****
The annual Nazarene Christian Academy auction in Hereford is Saturday, October 4. See the ad elsewhere in this Star for more detail.
*****
Carol Ellis took a tumble a while back and broke her wrist. She had surgery on it Monday and is home recuperating. Take it slow and easy Momma Carol and heal soon.
*****
Well, the homecoming game and Saturday Maize Days celebration are finally here. Looks like it is going to be some really good weather Friday and Saturday. Homecoming queen ceremony will start at 7:00 p.m. and Chieftain kickoff vs. Lubbock Roosevelt is at 7:30 p.m. The game will be broadcast on KNNK 100.5 FM and WT Services channel 6, and online at KNNK.com. The Maize Days parade begins at 10 a.m. Saturday morning with activities in the city park following. Everybody enjoy Maize Days.
*****
I was overjoyed to receive my Medicare & You 2015 book this week. It is 152 pages of mind numbing information about Medicare and me. I still haven't read my 2014 book yet. Oh well. Hope you got your copy. If you find something in it I need to know call me please. Until then!
*****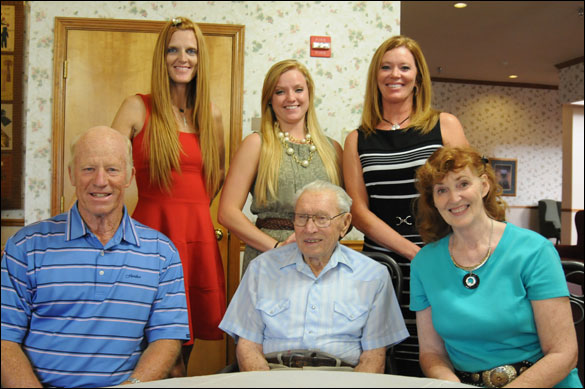 ron carr photo

Mr. Kenneth Carson celebrated his 96th birthday Saturday with family and friends at Friona Heritage Estates. He is Sherry Atwell's dad. Shown with Mr. Carson are Jim and Sherry Atwell and, standing, granddaughters Kenda Dunnam and Shannon Bullard with great granddaughter Keeley Dunnam, center.