Adrian Munoz ran 61 yards for a 2nd quarter TD. Big 6.0', 295 lb lineman Edgar Guerrero lined up at running back on 4th and goal and powered over River Road to score in the 4th quarter. Senior lineman John David Haile broke through and scooped up a bad River Road snap and raced 40 yards for another 4th quarter TD as the Chiefs beat the Road 21-7.
The win gives the Chiefs a 2-1 district record and a spot in the playoffs with two games left. Both Dimmitt and River Road are 0-3 in district. The Chiefs host Littlefield October 31 and travel to Childress to close out district November 7.
River Road had a slight edge in offense totals 216-226. Quarterback Dallin Woods ran 9 times for 17 yards and completed 3 of 8 passes for 40 yards. Workhorse Luis Trejo carried 12 times for 31 yards. Kaegan Kerby caught a 30-yard pass from Woods in the 4th quarter to keep a Chief drive alive. Kicker Juan Macias was 3 for 3 on extra points.
The Chiefs were without leading rusher Gabriel Chico, out with a knee injury. Lineman Juan Samarron re-injured an ankle early and was out the rest of the game. Both are expected to return to action.
Guerrero was credited with 9 tackles, 5 solo, Antonio Adame had 8 tackles and Mason Mireles was credited with 7.5 tackles.
The Littlefield game Friday night is the final home game and will be senior parents' night. Recognition of seniors will begin about 7:00 p.m. Kickoff is 7:30 p.m.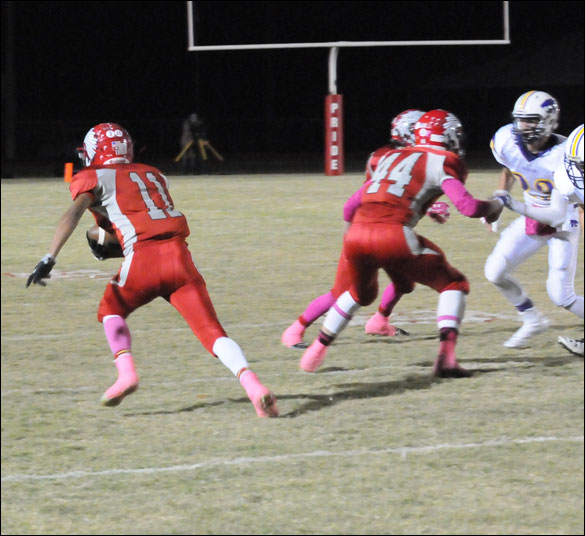 ron carr photo
Adrian Munoz (11) a 5'7", 130 lb junior, has clear sailing on the way to a 61-yard touchdown run to put Friona ahead of River Road 7-0. Teammate Keagan Kerby (44) blocks. The Chiefs beat the Road 21-7.