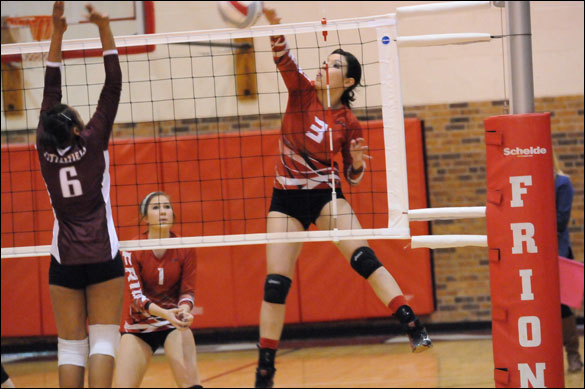 ron carr photo
Arianna Moreno (3) does some scoring damage against the Littlefield Lady Cats in Tuesday night's final regular season game. The Squaws beat Littlefield to finish 4-2 and second place in district. The first playoff game will be next Tuesday November 4 at 7:30 p.m. at Canyon High School vs. Sanford Fritch. Tulia won district followed by Friona, Dimmitt, and Littlefield. Ticket prices will be $3 students and $5 adults. Friona will be the visitors.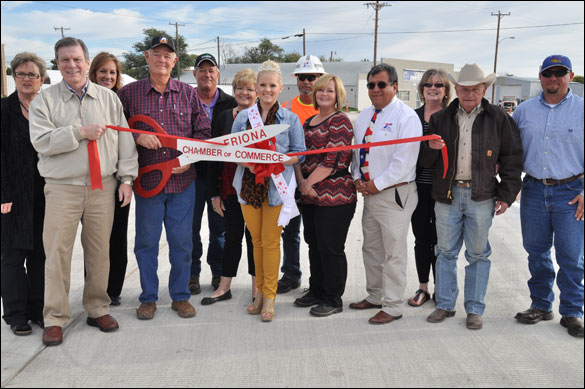 ron carr photo
The Friona Chamber of Commerce and Friona Economic Development Corporation and reps from TxDot and the Duininck Co. along with George Frye and Miss Friona Kendall Barnett, held a ribbon cutting Tuesday morning to "officially" open the new right turn access at Highway 60 and Main. Mr. Frye is said to have proposed the idea to TxDOT several years ago so he was invited to be the first driver to use the new turn lane. That is George with the scissors and driving his pickup thru the turn lane. The construction project, which began June 25, is completed and Highway 60 is now open to traffic.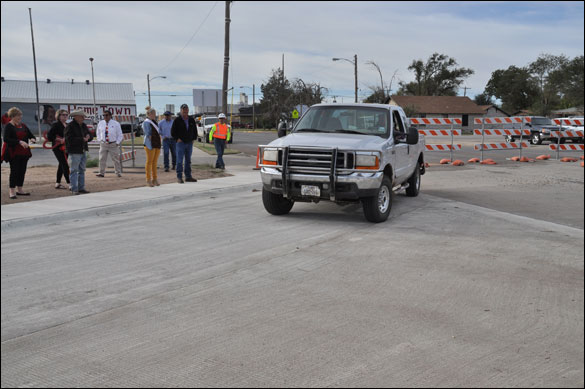 ron carr photo
The Highway 60 construction project was finished this week and the highway is now re-opened. The city and the Economic Development Corporation plan to landscape the area by the post office adjacent to the right turn lane. They hope to install an electronic sign to be used as a 'welcome to Friona' message center.
*****
The Country Market Arts & Craft Show is going on this weekend at the community center. Lots of vendors have signed up. There will be a fashion show by Mayra Chico, a quilting machine demonstration sponsored by Malouf's and my favorite part, Canna Ray's food available in the concession stand. Check out the Country Market ad in this Star for times and details. (more...)
Adrian Munoz ran 61 yards for a 2nd quarter TD. Big 6.0', 295 lb lineman Edgar Guerrero lined up at running back on 4th and goal and powered over River Road to score in the 4th quarter. Senior lineman John David Haile broke through and scooped up a bad River Road snap and raced 40 yards for another 4th quarter TD as the Chiefs beat the Road 21-7.
The win gives the Chiefs a 2-1 district record and a spot in the playoffs with two games left. Both Dimmitt and River Road are 0-3 in district. The Chiefs host Littlefield October 31 and travel to Childress to close out district November 7. (more...)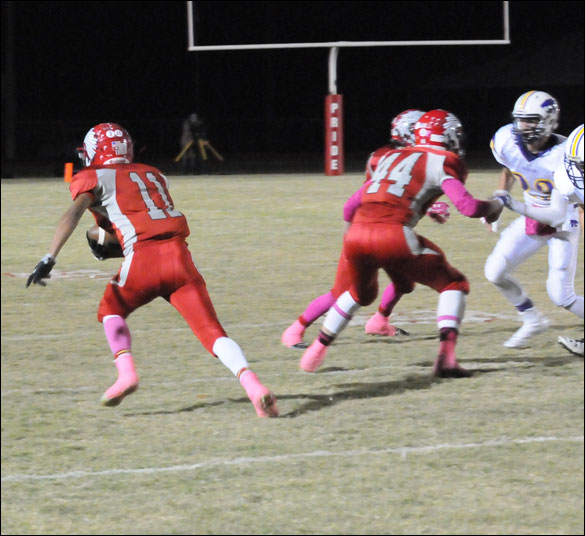 ron carr photo
Adrian Munoz (11) a 5'7", 130 lb junior, has clear sailing on the way to a 61-yard touchdown run to put Friona ahead of River Road 7-0. Teammate Keagan Kerby (44) blocks. The Chiefs beat the Road 21-7.
Squaws move on to the playoffs
From Coach Bryan Masse
On Saturday the Squaws traveled to Tulia to face off with the Lady Hornets.
The C team started things off with a hard fought three game win, having to come from behind to pull out the win. The JV had their way with the Hornets and used good serving, passing, setting and hitting for a 2-0 sweep. (more...)