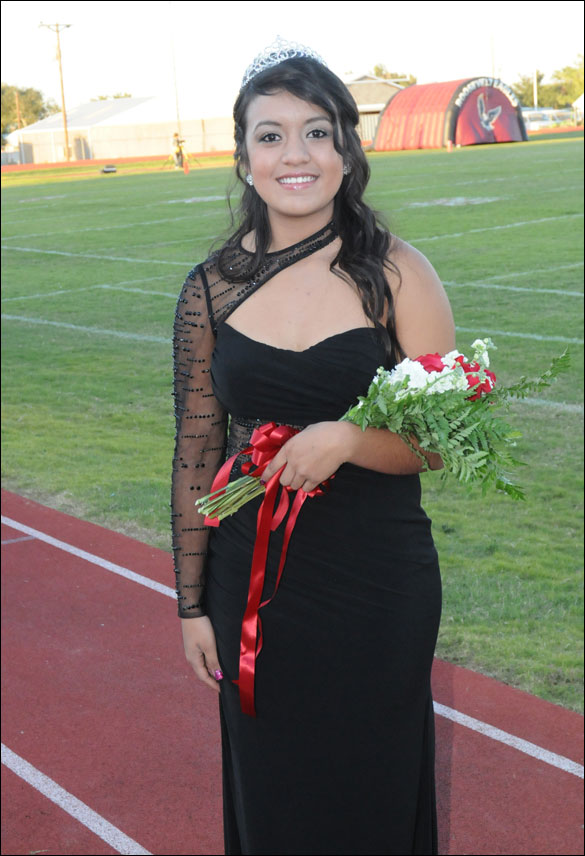 ron carr photo
The 2014 Homecoming Queen is Andrea Juarez. She was crowned during pre-game activities at Friday night's homecoming game with Lubbock Roosevelt.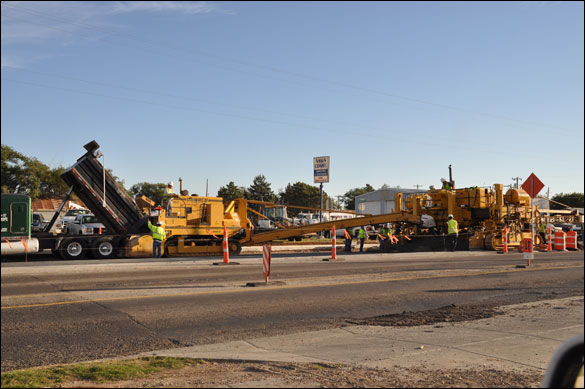 dana jameson photo
Workers began pouring the cement on the north side of Hwy 60 this week. Quite an operation. The dump truck at left pours the raw cement material into the big machine which mixes it into cement and pours it onto the road where the big machine at the right smooths it while the humans make sure it all works.
We have had some great weather lately. Cool mornings and warm afternoons. Amarillo meteor guy Doppler Dave says there is a 50% chance of rain Friday. Hope it doesn't interfere with the Chieftain game and Noon Lions hamburger and fries tailgate cookout at the game. (more...)
St. Ann's turkey dinner Nov. 2
St. Ann's Catholic Church in Bovina will be hosting their annual Turkey Dinner on Sunday, November 2 from 11:30 a.m. to 2 p.m. in the parish hall at 401 3rd Street.
They will be serving turkey and dressing with creamed potatoes and gravy, green beans, homemade bread, cranberry sauce, relish plate and dessert. Adult tickets are a $10 donation and a $5 donation for children under six. Take out plates will be available at no additional charge. (more...)
McFarland on top in Week 5 of Star contest
So far this season we have seen Brandon and Sandra Berend win back-to-back weeks and this week is no different. Mack McFarland predicted twelve games correctly to earn the top spot this week in the Friona Star Football Contest. Last week Rusty McFarland took the top prize for week 4. (more...)
Library Corner: Our little town blooming on the prairie...
By Darla Bracken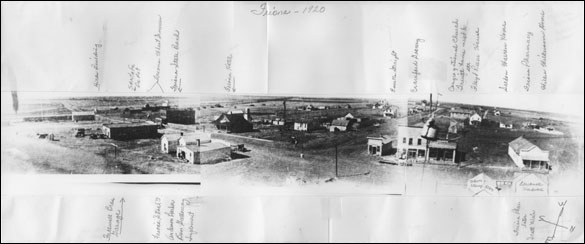 Our little town is shown here in a picture from 1923 as it existed then. Fred White took this innovative aerial photograph from atop the water tower which then stood in the area of the City Park. This particular photo is a composite of the three he took and was put together by Don Spring for our centennial. The only part that could not be edited out is the oil can that hung on one side of the water tower. (more...)
Chiefs lose to Roosevelt 19-14
The Chieftains closed out the non-district schedule with a narrow 19-14 homecoming loss to the Lubbock Roosevelt Eagles. The Chiefs led 7-6 until the fourth quarter but Roosevelt put up 13 points to Friona's 7. Friona won the rushing battle, outgaining Roosevelt 216 to 110 yards.(more...)
Squaws 1-0 in district
From Coach Bryan Masse
On Monday the junior high volleyball teams played at Olton. All the Maidens teams, 7th B & A and 8th B and A were victorious. (more...)