Library Corner: Our little town blooming on the prairie...
By Darla Bracken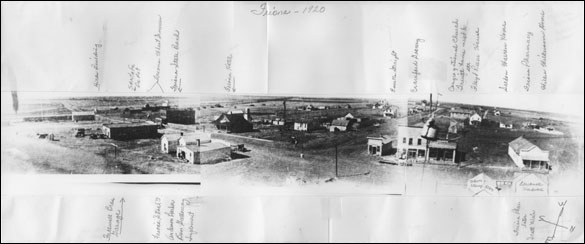 Our little town is shown here in a picture from 1923 as it existed then. Fred White took this innovative aerial photograph from atop the water tower which then stood in the area of the City Park. This particular photo is a composite of the three he took and was put together by Don Spring for our centennial. The only part that could not be edited out is the oil can that hung on one side of the water tower.
The identification of the structures is from the late Betty Louise and Lloyd Rector as they remembered it. Both sets of parents: Leo and Lillian (Boatman) McLellan & Foister and Olive (Griffith) Rector had lived in Friona since the 30s. We are very fortunate to have this enhanced view of Friona which incorporated in 1928. Hope you can read the notes, but if not, the photo is at the library. Have fun!
I just finished riding in the 58th Annual Maize Days Parade in a classic orange and white 1956 Chevrolet convertible furnished by Ricky Rector. It is my first time ever to ride in a convertible! Although I have walked or ridden in the parade about 5 times including the first one in 1956 when my Girl Scout troop marched in the parade and last year for the Library's 50th Birthday, this one was extra exciting for me. I have helped design and build several floats including four class floats when I was in high school 1965 to 1968 and for Friends in the 70s. My children have ridden in the parade as scouts, band members, sports players and on horseback with Rex as they grew up in Friona. Our little town has truly blossomed.
For all the people all through the years who have striven to make Friona the biggest small town in Texas, thank you! Think about all the people who VOLUNTEER for the Chamber & Economic Development, City Council, School Board, Hospital Board, Library Board, Prairie Acres Board and Boy Scouts, Girl Scouts, 4H, Little League, Fire Department many of whom chose Friona as the place to raise their families. We have many distinguished alumni from Friona Schools, and many of them have served in a myriad of ways right here in Friona—blooming where they were planted. These people give so unselfishly of their time, resources and expertise to help make our town be the best it can be. Some have even re-bloomed returning to Friona after living elsewhere. Don't be afraid to get involved and to do your part. Find a way to help.
On a sad personal note, the only green tractors in the parade were vintage; that's quite a change for me since my Dad was a John Deere mechanic for 45 years. And my mother, due to a fall at the end of August, was not able to be at the parade. db