Squaws/Chiefs open basketball season
The Friona Squaws and Chieftains hosted Hale Center Tuesday evening as basketball season officially got underway. The Squaws traveled to Sanford Fritch last Friday where they lost a close contest 64-60. Kendall Barnett led scoring with 26 points including 9 of 11 free throws and three 3s. She also contributed three steals and six rebounds. Christina Green and Taylor Stallings each had 11 points, Arianna Moreno had 5 points and 9 rebounds, Paige Upton 4 points and 6 rebounds, Celeste Flores 2, and Alexis Alvarado 1.
Tuesday night at the main gym the Squaws trailed the Hale Center Lady Owls 28-26 at the half. They took their first lead in the 3rd quarter and slowly pulled away for a 63-53 win. Alexis Alvarado and Celeste Flores each had 10 points to lead scoring. Johnna Thompson had 9 points. Barnett, Green, and Stallings each had 8 points, Arianna Moreno 6, and Paige Upton 4. The girls were 11 of 21 from the free throw line.
The Chiefs opened with a 62-38 pounding of the Hale Center Owls. It was good to see Brayden Pope and Mason Loflin back in action. Brayden sat out last season with some concussion concerns. Mason sat out the football season after breaking his ankle in a baseball game. Both boys are seniors and should add some good leadership for the basketball team.
Against Hale Cente, Coach David Woods said, "We played good defensively and shot better than I expected. Could have shot better from the line."
Cole Stowers led scoring with 26 points, 4 rebounds, 3 assists, and 3 steals. Dallin Woods had 15 points, 5 rebounds, 4 assists, and 4 steals. Keagan Kerby had 8 points, John Haile 5 points, Brent Hickman 2 points, Brayden Pope 2 points, Saul Espino 2 points, and Josh Barnett 2 points.
The teams travel to Panhandle Friday November 21 and host Farwell here Tuesday November 25. Game times are JV at 5:00 p.m., varsity girls at 6:30 p.m., and varsity boys at 8:00 p.m.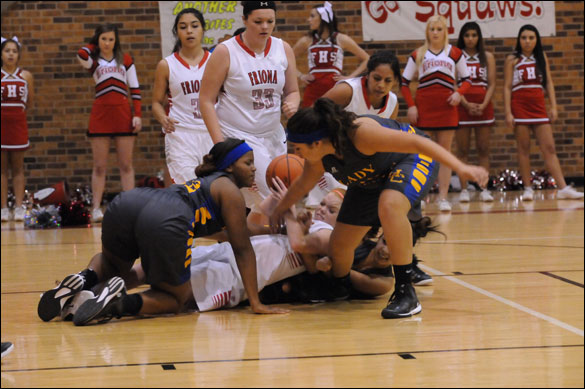 ron carr photo
Paige Upton fights three Hale Center Lady Owls for a loose ball as teammates Celeste Flores (3), Johnna Thompson (33), and Alexis Alvarado look on. The Squaws beat Hale Center 63-53.