Shirley Ferguson retires from Friona Interbank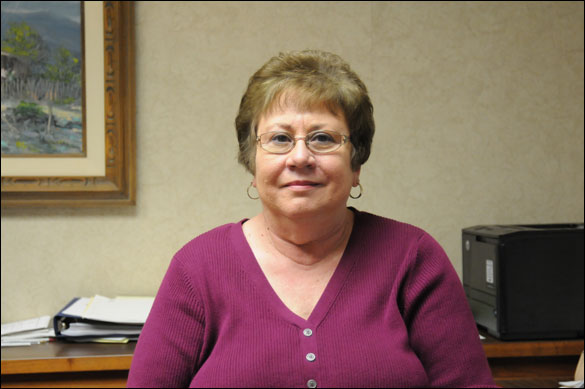 Friona InterBank recently hosted a reception for Shirley Ferguson who will be retiring from the bank after 47 years of service. Her last official day will be December 31, 2014. She joined us in October 1965 right after her graduation from Friona High School.
Her story goes like this:
It was in January 1965, as a senior at Friona High School that she put in her application at Friona State Bank. She and Fred Ferguson were engaged to be married in July of that year and they had their long-term plans made. Fred worked at Plains Hardware. They married as planned and around the first of October, Charles Allen called Fred and asked if it was ok for Shirley to work at the bank! (Those were the days!!)
As best made plans go, in 1966, Fred was drafted into the army and served for 2 years. Shirley spent 8 months with him in Ft Carson, Colorado before he began a tour in Viet Nam from Feb-Sept of 1968. Shirley moved back to Friona during this time and continued her work at the bank.
Shirley started in the bookkeeping department at the bank when the bank was located on 7th and Main. When asked what she remembers about that day she says she was very nervous and she spent the day filing checks in alphabetical order, quite a job in those days.
She later advanced to teller and was promoted to Head Teller in June 1981. Shirley then became an assistant in the CD Department, serving under Charlene Harper.
In 1984, she was named Assistant Cashier and in 1989 was again promoted to Assistant Vice President.
In Jan 1997, Ferguson was promoted to Vice President and is currently head of the Certificates of Deposits and Individual Retirement Account Departments.
Shirley was born in Waurika, Oklahoma and moved with her family to Friona in 1954-55. Her parents are the late Troy and Lois Hutson. She has one sister, Carolyn Stevick of Friona. Fred and Shirley have two children, Gary, who lives in Amarillo, and Christie of Friona. The Fergusons have four grandchildren.
The employees of Friona Interbank invite you to stop by and congratulate Shirley on her 49 years at the bank and her retirement. We appreciate her loyalty and dedication to the bank and thank her for 47 years. She will be missed.