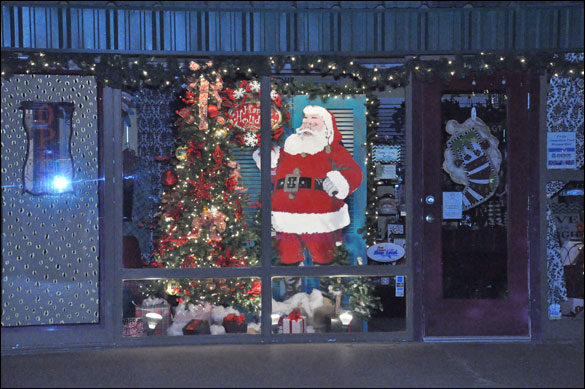 dana jameson photo
The Ivy Cottage Santa greets visitors as Christmas lights appear across the city. It is definitely the Christmas season in Friona. Shop local too.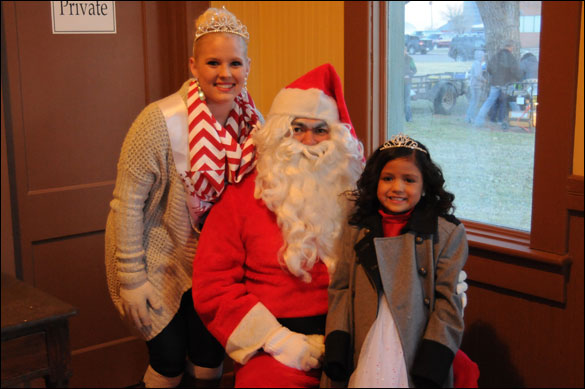 ron carr photo
Miss Friona Kendall Barnett, Santa Claus and Little Miss Friona Ariana Vasquez wish everyone a Merry Christmas and Happy Holidays!
At Monday's meeting the Parmer County Commissioners reinstated the burn ban effective midnight December 8 until January 8, 2015. No outside burning during the period. Violators are subject to a fine.
*****
Merry Christmas is on the way. I'm hoping for good weather during the Christmas travel times. My two youngest kids, Zac and Megan, will be driving out to spend Christmas with me. Got turkey and brisket ordered from Gilbert at Hereford Meat Market. Ordered some Christmas fudge from Sandra Berend. We'll have a small family gathering with brother Rick and his wife Sherry on Christmas day. Hope your plans are coming along. (more...)
Council makes Chief Jimenez official
The city council met in regular session Monday December 8 in council chambers, 619 Main St. Councilman Greg Lewellen was absent. Mayor Rick White presided.
Bi-Wize owner Josh Moore and pharmacist Andy Alexander spoke during the public comments portion of the agenda. Mr. Moore expressed several items of protest that Prairie Acres awarded a one-year contract to K & K Pharmacy of Muleshoe to fill prescriptions for the nursing home's skilled patients. A skilled patient is short term patient that stays in Prairie Acres for rehab, similar to the swing bed program. (more...)
A love fund has been established at Friona Interbank to assist with expenses for the Robert Saiz family. Robert passed away unexpectedly recently. All donations will be appreciated.
Shirley Ferguson retires from Friona Interbank
By Marca Herring
Friona InterBank recently hosted a reception for Shirley Ferguson who will be retiring from the bank after 47 years of service. Her last official day will be December 31, 2014. She joined us in October 1965 right after her graduation from Friona High School. (more...)