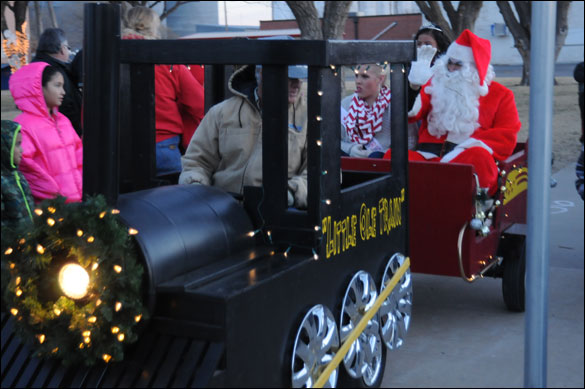 ron carr photo
Christmas came to town Monday evening as Santa made his arrival via Larry Rector's "Little Ole Train." Accompanying Santa were Little Miss Friona Ariana Vasquez and Miss Friona Kendall Barnett. Santa set up shop inside the Old Depot in the city park and the girls handed out candy canes to the little ones.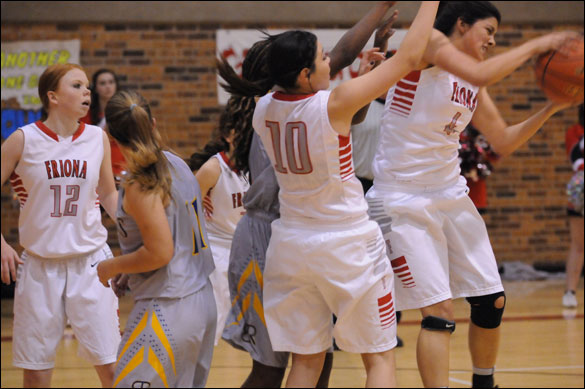 ron carr photo
Christina Green (4) comes up with a rebound as teammates Arianna Moreno (10) and Paige Upton (12) join the battle. The Squaws beat Boys Ranch 61-48. The girls will participate in the Melrose, NM tournament this weekend.
Spent Thanksgiving weekend in Denton and Frisco. Got to see all five of my kids and all five grandkids. Drove down on Wednesday and back to Friona Sunday. Gas was a lot cheaper this year than last. When I got home about 3:30 p.m. it was 76 degrees. About two hours later it was 28. Monday morning it was down to 9 degrees. By Tuesday it was back in the 60s. Winter has definitely come to Parmer County.
*****
Parmer County Sheriff Randy Geries has advised of a scam going around the state again. You might get a phone call that you missed jury duty and have to send in a fine. The Sheriff says they do not call people to collect fines by phone so don't send any money or account info. Just hang up. By the way there is a fine for missing jury duty but they are likely to come visit you. (more...)
The Friona city council will meet in regular session Monday December 8 at 6:30 p.m. in council chambers, 619 Main St. All council meetings are open to the public.
The agenda includes approval of previous minutes, departmental report from the police department regarding budget, expenses, and activities, and approval of November 2014 accounts payable and financial statement. (more...)
Friona High School junior Josh Barnett has been selected to participate in the online distance learning portion of the Texas High School Aerospace Scholars (HAS) Program at NASA Johnson Space Center. Josh is the son of Ricky and Erin Barnett.
Josh was chosen by a selection panel based on his outstanding application profile, including the essay composition and letter of recommendation.
"The applicant pool was very competitive and Josh is to be commended on being selected for this program," stated Pam Ray, Friona High School Principal. "He joins more than 150 students from across the state in this advanced science program." (more...)