ron carr photo
Esdras Rodriguez competed in the squat lift at the Bovina powerlift meet Saturday. Esdras and his teammates won first place at the meet. Seventeen teams competed in the meet. Friona will host a powerlift meet Saturday February 22 in the new activity center.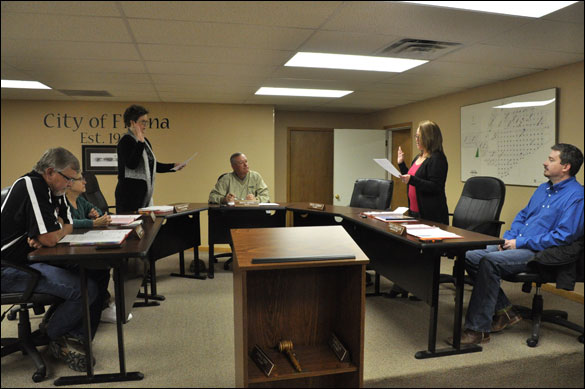 ron carr photo
City manager Patricia Phipps, left, swears in new city council member Nancy Davis at Monday's council meeting. From left are council members Alan Monroe and Martha Barker, Mayor Rick White, and councilman Greg Lewellen. Mrs. Davis was appointed to fill the term of Charlie Pope who resigned from the council late last year.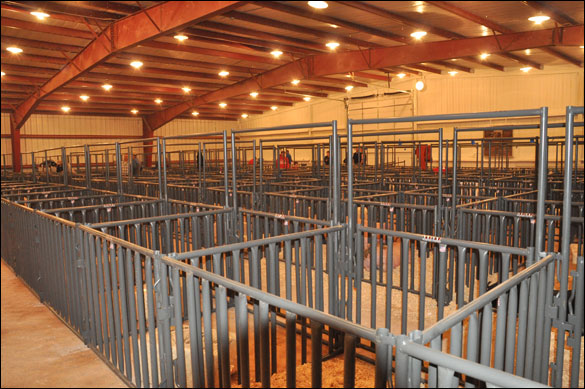 ron carr photo
The exhibitors at the Parmer County Junior Livestock Show this week will be welcomed by all new pens plus foam insulation on the exterior walls. Cargill paid for the foam insulation which was provided by Hamilton Steel & Concrete. The pens were made possible by private and corporate donations. The Livestock Association replaced four outside doors. The stock show will have 440 entries this year. According to show superintendent Mack Heald this will be the 77th county livestock show.
Town Talk II
County commissioners have reinstated the burn ban effective for 90 days. No outdoor burning of any kind. Violators are subject to citation and fines. County Judge Trey Ellis is authorized to lift the ban in the event of any significant moisture.
*****
Monday January 20 from 4:30 - 6:30 p.m. the Booster Club will have a big t-shirt sale in the football concession stand. All t-shirts will be $5.00. They are selling old football, basketball, volleyball, and baseball shirts, plus some "Fear the Spear" and junior high shirts. Long and short sleeves available. Stop by and help the Booster Club reduce its inventory. (more...)
At their regular meeting Monday January 13 the county commissioners voted to impose a burn ban in the county for 90-days. No outdoor burning is allowed during the period. Parmer County continues to be extremely dry and windy. Violators of the burn ban are subject to citations and fines. County Judge Trey Ellis has the authority to lift the burn ban in the event the county receives ample moisture. (more...)
The Friona Chamber of Commerce & Agriculture announced this week that the 58th Annual Friona Chamber Banquet will be Tuesday, March 4 at the Friona Community Center.
The event will feature a delicious dinner, auction/raffle and Jyl Wyatt Marshall, daughter of artist Kenneth Wyatt. Marshall will be performing "A Phone Call from God". (more...)
Council: Water tank repair to begin
The Friona city council met in regular session Monday January 13, 2014 in council chambers at 619 Main St. Councilman Bruce Fleming was out of town and not present.
New member Nancy Davis was sworn in for her first meeting since being appointed to fill the seat vacated by Charlie Pope who resigned late last year. Cris Ingram was appointed to represent the city on Farm Service Agency votes. (more...)