Chiefs beat Muleshoe 63-58
The Chieftains closed out the basketball season with a home victory over the archrival Muleshoe Mules. The game had no playoff implications for either team. The Chiefs missed the playoffs but the Muleshoe match was for pride.
Led by Cole Stowers' 23 points, the Chiefs outscored the Mules 38 to 33 in the 2nd half to beat the playoff bound Mules 63-58. The Chiefs were 20 of 38 from the free throw line.
Others scoring: Dallin Woods 12, Mason Loflin 11, Brad Stowers 10, John Haile 4, Trent Hickman 2, and Jose Zamudio 1.
At Abernathy last Friday the Chiefs lost to the #3 ranked Antelopes 68-55. Mason Loflin led scoring with 21 points including five 3-pointers. Other scoring: Woods 11, C. Stowers 7, B. Stowers 6, Espino 4, Zamudio 4, B. Hickman 2. The Chiefs were 3 of 6 in free throws.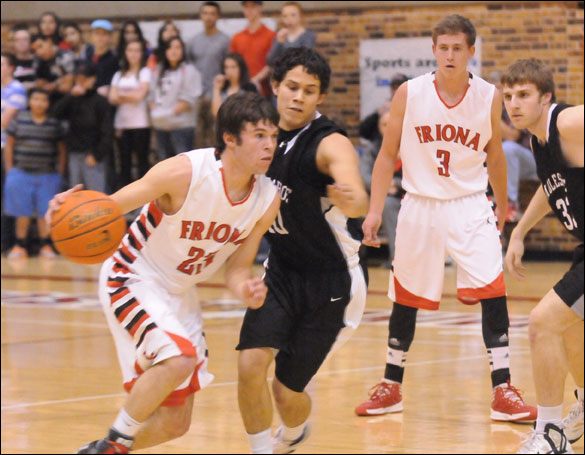 dana jameson photo
Cole Stowers (23) drives around a Muleshoe Mule on his way to a team leading 23 points to defeat Muleshoe 63-58. Teammate Mason Loflin (3) looks on.