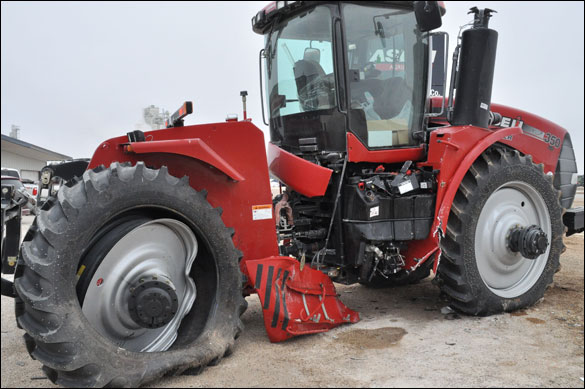 ron carr photo
It was an expensive nap. Thursday February 6 about 9:30 p.m. a truck driver eastbound on Hwy 60 fell asleep, ran off the roadway and crashed into this Case 350 tractor at Parmer County Implement Company west of Friona. The semi- tractor was not pulling a trailer. The Case tractor was facing the highway and the impact spun it around facing the opposite direction, causing extensive damage. According to Parmer County Implement owner Bob Hurst the Case 350 is valued at well over $250,000. Friona firefighters, Sheriff deputies, and DPS worked the accident.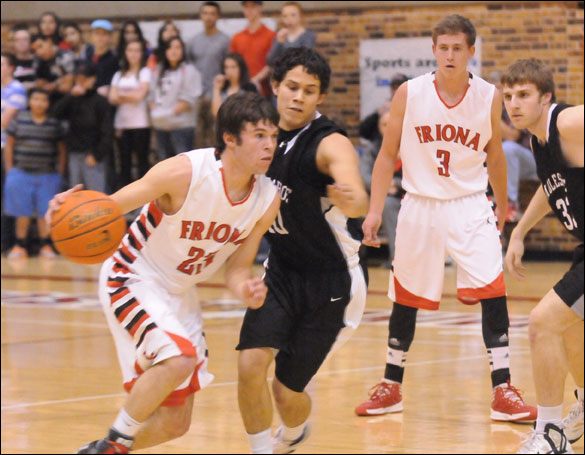 dana jameson photo
Cole Stowers (23) drives around a Muleshoe Mule on his way to a team leading 23 points to defeat Muleshoe 63-58. Teammate Mason Loflin (3) looks on.

Town Talk II
The Panhandle Singing Men will be in concert at First Baptist Church in Friona at 7:00 p.m. Thursday, February 20. Pastor Brett Hoyle says everyone is invited to attend this free concert to hear heavenly music from many of the Texas Panhandle's finest music ministers.
*****
WT Services TV channel says we have received 0.07" of moisture in February. That ain't much and County Judge Trey Ellis says the burn ban is still in effect in the County.
*****
Jim Atwell had a heart attack Monday at the post office while getting ready to run his mail route. He was taken to Lubbock Heart Hospital where he had a stent put in and was resting well at our press time. The 6th St. Church of Christ hotline said he could be back home by Friday. Our thoughts and prayers to Jim and Sherry and the Atwell family. (more...)
by Ricky White
I wanted to communicate this month some projects that the city will be completing this fiscal year.
I mentioned last month the 1,000,000-gallon water tank, located northeast of Friona is in need of repair. The top of the tank will be replaced and the inside of the tank to be repaired and repainted. This project will begin on February 17 and will be completed in approximately 6 weeks, depending upon the weather. The cost of this project will be approximately $445,000. (more...)
The Chieftains closed out the basketball season with a home victory over the archrival Muleshoe Mules. The game had no playoff implications for either team. The Chiefs missed the playoffs but the Muleshoe match was for pride.
Led by Cole Stowers' 23 points, the Chiefs outscored the Mules 38 to 33 in the 2nd half to beat the playoff bound Mules 63-58. The Chiefs were 20 of 38 from the free throw line. (more...)