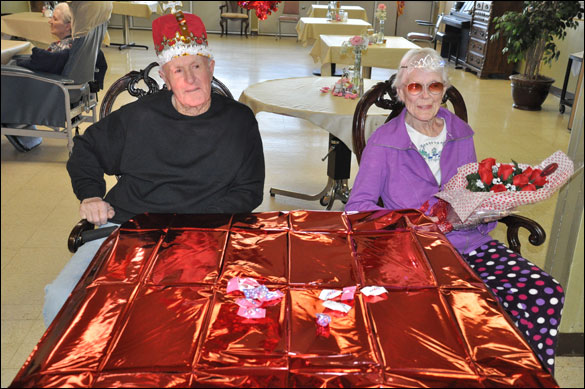 ron carr photo
The 2014 Valentine King and Queen at Prairie Acres, crowned at last Friday's Valentine party, are Charles Gilbreath and Kathryn Woodward. Residents enjoyed a cobbler and ice cream party Friday afternoon.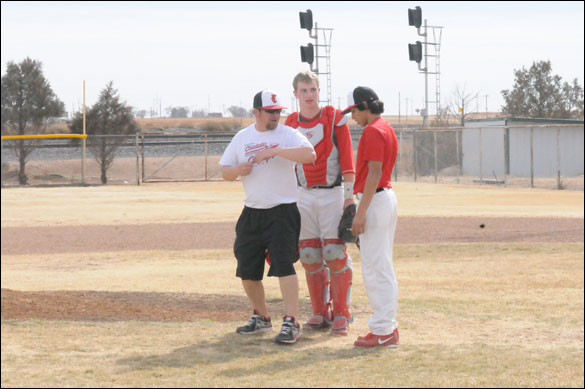 ron carr photo
The Chieftain JV scrimmaged the Hereford freshmen Saturday as baseball season gets underway. Coach Styler Haddock talks technique with catcher Dallin Woods and pitcher Mason Mireles. The Chiefs host Hale Center Saturday February 22 at 12:30 p.m.
Town Talk II
The weather has been spring like the past few days. Unfortunately we have had no moisture, rain or snow, to help out with the drought. The County burn ban is still in effect. The little weather graphic on Channel 10 showed the possibility of some rain Thursday. We will see.
*****
The 2014 Valentine King and Queen at Prairie Acres are Charles Gilbreath and Kathryn Woodward. They were crowned at the Valentine party at Prairie Acres last Friday. I managed to get a plate of cobbler and ice cream along with the residents. Thanks to volunteers Linda Chesher, Sharon White and Martha Hamilton for decorating, dishing ice cream, scooping cobbler, and pouring punch. (more...)
The St. Teresa's Catholic Church annual Mexican dinner will be held Sunday March 2 from 11:00 a.m. to 2:00 p.m. in the church parish hall. Menu will be beef enchiladas, rice, beans, tacos, chips, salsa, dessert, coffee or tea. Tickets are $10.00 for adults and $5.00 for children under 10 years. Everyone in the community is invited to come and enjoy lunch.
The Texas Department of Transportation (TxDOT) is set to begin work on a $3.26 million project to make roadway improvements to almost seven miles of FM 1172 in Parmer County, from FM 2397 to SH 86.
"The project will make needed improvements and repairs to the pavement, but is also expected to enhance the overall safety of the roadway," said Steve Perez, P.E, TxDOT Littlefield Area engineer. (more...)
Chamber invites everyone to the 58th annual banquet
It's 'Party time' for the Chamber of Commerce. The 58th Annual Chamber of Commerce banquet will be held at 6:30 p.m. Thursday, March 6 at the Friona Community Center. This year's banquet theme is "Join the Fun". The Community Center will be decked out in festive purple, gold and green. Awards will be given to Friona's outstanding citizens.
Charlie Pope, Rick White and crew will be cooking up a delicious meal featuring prime rib. (more...)