Monroe, Bracken named Man and Woman of the Year
The 58th Annual Friona Chamber of Commerce Banquet is now in the history books. The banquet was held Thursday, March 6 at the Friona Community Center.
The banquet theme was patterned after Mardi Gras with the community center decked out in festive purple, green and gold.
A delicious prime rib, baked potatoes, coleslaw and bread meal was prepared by Charlie Pope and his crew from Cargill.
Friona Girl Scouts and 4-H kids kept the food coming as they served the crowd.
Girl Scout Troop 5181 posted the flag and led the audience in the singing of the National Anthem. Kurt Borden from the First United Methodist Church gave the invocation.
Board President Gayla Quillin served as Master of Ceremonies for the evening.
Miss Friona Mykelti Rhodes presented the delightful "Vitameatavegamin skit" originally done on "I Love Lucy".
Kevin Welch served as auctioneer for the live auction. Miss Friona and Little Miss Friona Madison Tyler showcased the items being auctioned.
The citizen awards were given to: Marisela Padilla, Employee of the Year. She is employed by Lowes; Isaac Gallardo and Holly Johnston were named Students of the Year; Kathi Miller was named Teacher of the Year; Charlie and Britny Pope were named co-winners for Citizen of the Year; Darla Bracken and Alan Monroe were named Woman of the Year and Man of the Year.
Photos from the banquet will be available on the Friona Star website, friononline.com.
Congratulations to the award winners and to the Chamber Board and all of the volunteers for another successful Chamber of Commerce banquet.
Thanks to Chamber Executive Director Chris Alexander and her assistant Betty Lamb for coordinating the event. A special thanks to everyone who attended the banquet and showed your support for Friona.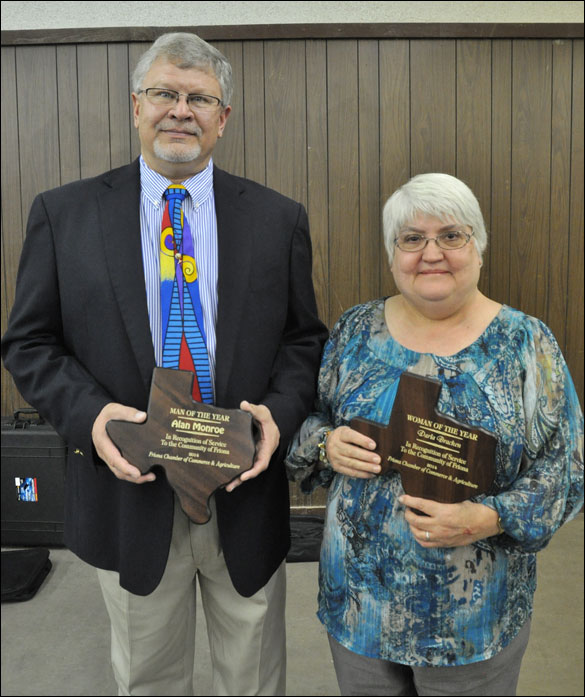 Alan Monroe & Darla Bracken
2014 Man & Woman of the Year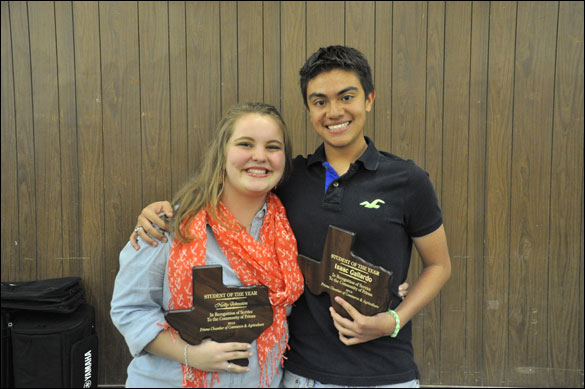 Holly Johnston & Isaac Gallardo
2014 Students of the Year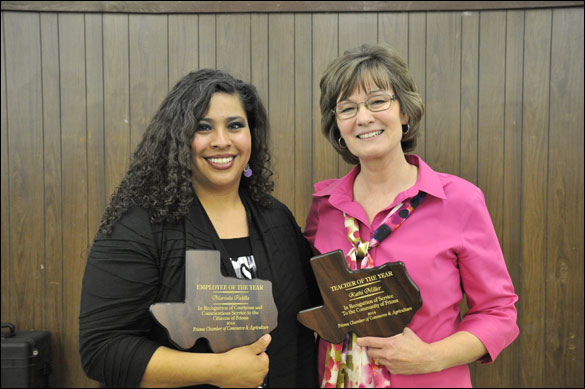 Marisela Padilla & Kathi Miller
2014 Employee of the Year & 2014 Teacher of the Year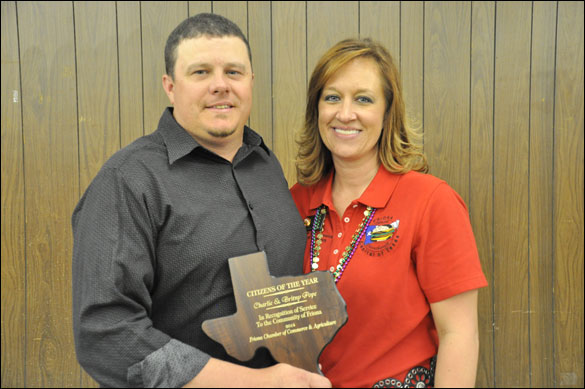 Charlie & Britny Pope
2014 Citizens of the Year