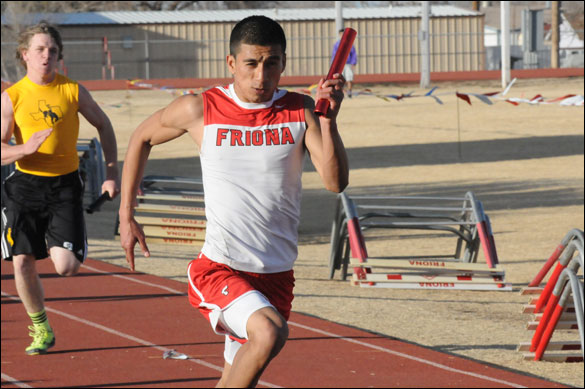 ron carr photo
The Chieftain Relays track meet was held last Friday afternoon. Aran Ramirez in the anchor leg carries the baton to a 1st place finish in the 4x100m relay. The varsity boys finished 2nd in the competition. More junior high, JV, and varsity track photos available in our photo section.

Election Results
According to Parmer County Tax Assessor Bobbie Pierson there are 4,293 registered voters in the county. After Tuesday's primary election, the County Clerk staff counted 896 ballots. Of those, 869 were Republican and 27 were Democrat ballots. That is a voter turnout of 20.87%.
In the only locally contested race, Steve Cockerham won the Precinct 2 County Commissioner race with 133 votes over Mitch Terry's 114. For state senator, Kel Seliger got 440 votes and Mike Cannon 331. (more...)

Town Talk II
SPRING FORWARD!! Don't forget to move your time keeping devices forward one hour as of 2:00 a.m. Sunday March 9. Daylight Saving Time will be in effect until November 2 at which time you get the hour back that you lose Sunday. Enjoy the extra daylight.
*****
The area received snow/sleet mix Sunday and the temp was about 10 degrees all day with wind chills well below zero. Made for some icy driving. Mercedes Williams said the weather didn't affect the St. Teresa's Mexican dinner Sunday. She said they thought they actually had more folks than last year. Makes sense. Too bad to go shopping so a nice warm plate of enchiladas on a cold dreary day was a good choice. Thanks for the jar of salsa Mercedes. (more...)
The Friona ISD school board has two seats up for election May 10. The terms of Tracy Bunker and Wade Schueler are expiring. The sign-up period for the two seats ended Friday February 28.
Friona ISD administrative assistant Kathy Sandoval said four candidates have entered the race for the two board seats. Incumbents Bunker and Schueler signed up for re-election. They will be joined on the ballot by Brent Loflin and Jose Cigarroa. (more...)
The Friona city council will meet Monday March 10 at 6:30 p.m. in council chambers at 619 Main St. All council meetings are open to the public.
The council terms of Martha Barker and Greg Lewellen and the Mayor's position are all expiring. Deadline for sign-up was Friday February 28. City manager Patricia Phipps said all three incumbents signed up for re-election and are unopposed so a general election will not be held. (more...)