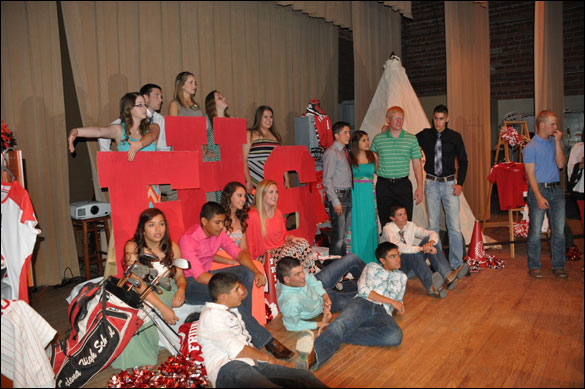 dana jameson photo
2014 Seniors posed for pictures after the 2014 FHS All-Sports Awards Program held Tuesday, May 13 at the Friona Junior High cafeteria and auditorium.


Election results/info
Wade Schueler and Jose Cigarroa won the four way race for the two seats on the Friona school board. Cigarroa received 281 votes, Schueler 186, Tracy Bunker 156, and Brent Loflin 151.
In Bovina, Frank Gonzalez was re-elected mayor by a 1-- to 73 margin over Stan Miller. Yolanda Robledo won the unexpired term seat on the city council with 74 votes to Josue Gonzales 69 and Brenda Riddle 31. Winners of the two open seats on the city council were Jeff Steelman 123 votes, and Matt Hromas 98 votes. Mike Olvera received 72 votes. (more...)
Town Talk II
The local police department has taken a firm policy toward folks driving without a driver license. If you or your kids are driving around with no license and get stopped, the police will call Municipal Judge Deborah Campbell and haul you to court immediately to arrange to pay the fines and you run the risk of the vehicle being impounded. Not a good idea to drive in Friona without a driver license. There were 12 such arrests in April.
*****
Esdras Rodriguez, FHS Class of 2014, was selected for the Texas High School Powerlifting Association all-state academic elite team. A 3.85 grade point average is required and only two from this region made the team according to Coach Daniel Hutchins. Esdras will be the Class of 2014 valedictorian. Salutatorian is Ricardo Soto and historian is Jacob Osborn. There is an all male top three this year, following an all girl top three in the Class of 2013. Watch for our special graduation section next week. (more...)
FHS athletes recognized at All-Sports Awards Banquet
Friona High School athletes were celebrated by the Chieftain-Squaw Boosters on Tuesday, May 13 at the FHS All-Sports Awards Program held at the Junior High cafeteria and auditorium.
Robert Kerby, Victory Family Worship Center pastor, offered the prayer before the meal was served.
The awards portion of the evening began with a moving speech to the athletes by FHS Athletic Director Michael Prokop.
Cross Country Coach Cindy Moreno presented awards to Alexis Alvarado and Armando Flores as outstanding members of the team. (more...)