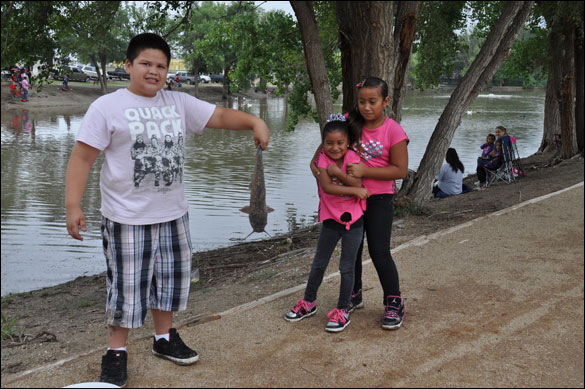 dana jameson photo
The City of Friona sponsored a Kid Fish event on Sunday, September 7 at Reeve Lake. Fishermen of all ages and from around the area practiced their casting skills during the overcast and drizzly afternoon. Chivalry is not dead. Zachary Mendoza, left, helped his cousin by removing the hook and holding up the fish that his cousin, Tiffany Martinez, right, caught. Zachary and Tiffany won trophies for their efforts. Results of Kid Fish are on page 10. Also pictured is Anahi Ramirez.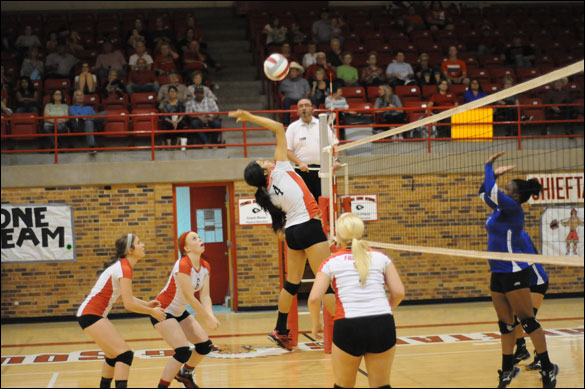 ron carr photo
Courtney Bunker, Paige Upton, and Kendall Barnett look on as Christina Green slams home a point against Lubbock Estacado. The Squaws beat Estacado for the third time this season, in this game and in two tournaments.
Yessir it did rain Friday. All day. Everyone received from 2" to 3" according to reports. Cooler weather is also upon us. Almost jacket weather. The first day of fall is Monday September 22. Co-Op Gin manager Matt Lingle said the rain did not hurt cotton since we have a late crop but the cotton needs heat, 90 degrees and above, for a couple of weeks. Only one day this week was forecast to be in the 90s.
*****
Received a subscription renewal from former resident Anita Hall, now a resident of Graham. She sent along this note: "Love hearing from all and reading how things are going in my home town. Keep up the good work. Love to all." Thank you too Anita. (more...)
'Friona Feeds the World' theme for Maize Days
Maize Days 2014 is quickly approaching and the Friona Chamber of Commerce and Agriculture would like to remind everyone that the theme for this year's celebration is "Friona Feeds the World!"
The Miss Friona and Little Miss Friona pageants will be combined into one event this year. The pageant will be held on Friday, September 26 at 6 p.m. at the Friona High School auditorium. Tickets for the event are $10 for adults, $8 for students, and $4 for 10 and under. (more...)
O'Brian wins week one football contest
The first week of the Friona Star Football Contest proved to be a roller coaster for the 73 contenders but Greg O'Brian, of Friona, managed to correctly guess 13 games right to become Week One winner of $25.
O'Brian only missed the USC-Stanford and Tennessee-Kansas City games. (more...)
By Ricky White
I would like to thank and recognize the Public Works employees for the great work they have done at Reeve Lake trimming the trees and cutting out the dead limbs. Still have a little work to do, but the park is looking great. Also, the city has plans to install a water sprinkler system on the west side of the playground equipment. Getting more grass coverage will dress this area even more. I would encourage everyone to drive by the park and admire the work that has been done. (more...)