Obituaries
Willie Ellen "Billie" Cogdill Fairchild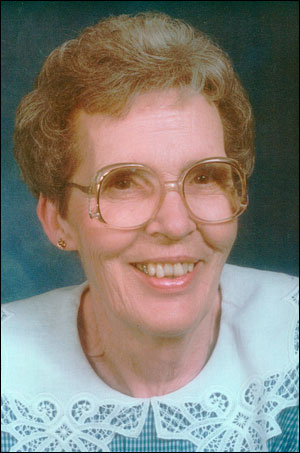 Willie Ellen "Billie" Cogdill Fairchild, 94, of Austin, TX, formerly of Friona, died Thursday, September 4, 2014 in Austin. Funeral services were held Monday, September 8, 2014 at the Friona Cemetery Association Chapel in Friona, Texas with Rev. Brett Hoyle, pastor of the First Baptist Church in Friona, officiating. Burial followed in the Friona Cemetery under the direction of Blackwell-Mullins Funeral Home of Friona.
Mrs. Fairchild was born October 6, 1919 in Lone Wolf, Oklahoma to William F. and Sarah Elizabeth Teague Cogdill. She married Carl Palmer Fairchild December 23, 1937 in Clovis, N.M. She lived most of her life in Friona where she was a proud librarian working for the Friona Public Library. She was a member of the Friends of the Library, Daughters of the American Revolution and the First Baptist Church in Friona.
Survivors include one daughter, Phyllis Jean Fairchild Parker and husband Johnnie of Round Rock; one son, William Weldon "Sleepy" Fairchild and wife Ruby of Austin; three grandchildren: Dan Parker, Mark Fairchild, and Michael Fairchild; four great-grandchildren; and four great-great grandchildren.
Memorials may be made to the Friona Public Library, 109 West 7th Friona, Texas 79035 or a favorite charity.
You may sign the online register book at www.blackwellmullins.com