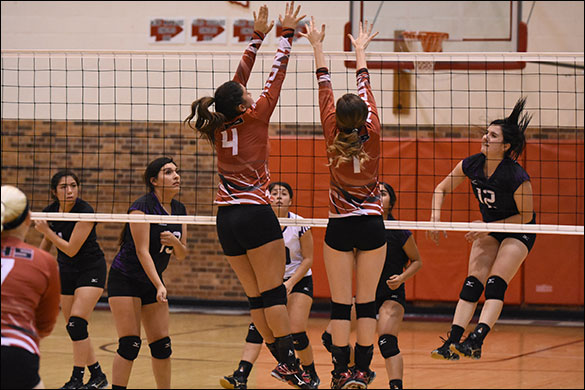 ron carr photo
Erica Barrera (4) and Courtney Bunker (1) block a shot by Dimmitt in Tuesday night action. The Squaws beat Dimmitt and will play Tulia Friday October 23 at 4:00 p.m. for first place in district. Free hot dogs at the game and the girls will be handing out mini-volleyballs. The final regular season match before the playoffs will be at Littlefield Tuesday October 27. Good luck to Coach Masse, Coach Ray, and the Squaws.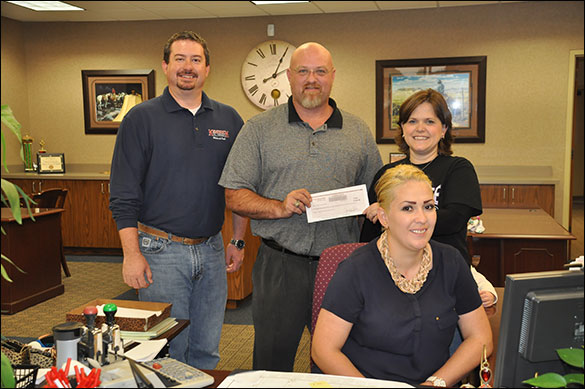 dana jameson photo
First National Bank representatives Jeff Ray, center, and Mayra Olmos, seated, presented a $1,862 check to Greg and Jamie Lewellen for the Parmer County Cancer Coalition. Donations were received for 280 sausage wraps. Thanks to all that participated. Jamie Lewellen stated that they sold 1,100 Pink Out Night shirts in Friona and 300 in Bovina.

Local official weather guy John Gurley said we received 1.98" Tuesday night and our total this month is 5.38". Even more rain is forecast for Wednesday night and Thursday. Farmers are scrambling but rain is good. (more...)
Veterans Breakfast November 11
How many ways can we show our gratitude to our Veterans? Just to name a few: A big thank you, take the time to listen to their stories, lend a helping hand when you can, pick up the tab when you seen them at a restaurant or feed them breakfast as The Friends of the Library and your local library love to do. (more...)
Chiefs blanked by Muleshoe 43-0
St. Ann's Catholic Church in Bovina will host their annual Turkey Dinner, Sunday, November 1, 2015 from 11:30 a.m. to 2 p.m. (CST) in the St. Ann's Parish Hall at 401 3rd Street in Bovina. A quilt throw made by St. Ann's Society will be raffled off at the dinner. (more...)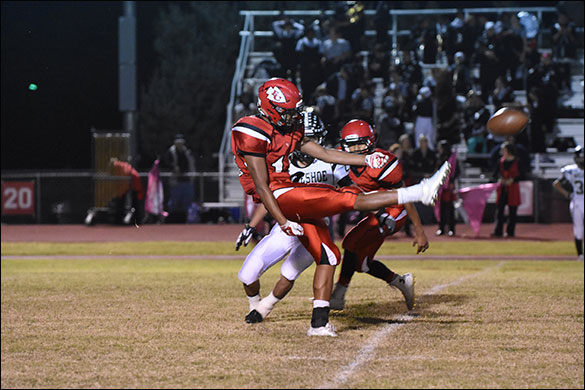 ron carr photo
Freshman Jonathan Hernandez has taken over the punting duties for the Chieftains.