Obituary
Norma Jean Terry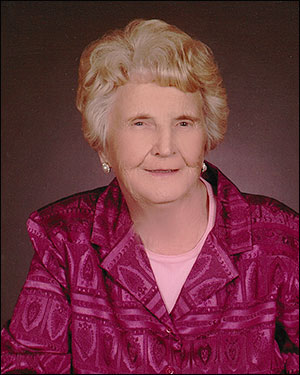 Norma Jean Terry, 86, of Friona, died Wednesday, October 14, 2015 in Amarillo. Chapel services were held Friday, October 16, 2015 at the Friona Cemetery Chapel with Rev. Brett Hoyle of Friona and Rev. Joe Whitley of Farwell, officiating. Burial followed in the Friona Cemetery by Blackwell-Mullins Funeral Home of Friona.
Norma was born March 1, 1929 in Hereford, Texas to Clifford and Vivian Jones Schults. She was the very first Maize Queen in Friona. She married John Douglas Terry June 12, 1948 in Clovis, New Mexico. For many years, they owned J.D.'s Gas Service in Friona. She loved her family, painting, gardening and embroidery.
Her parents, husband and two brothers precede her in death.
Survivors include two sons, Mitch Terry and wife Kathy of the Rhea Community, and Randy Terry of Friona; one sister, Karen Edwards of Amarillo; three grandchildren; and eight great-grandchildren.
You may sign the online register book at www.blackwellmullins.com