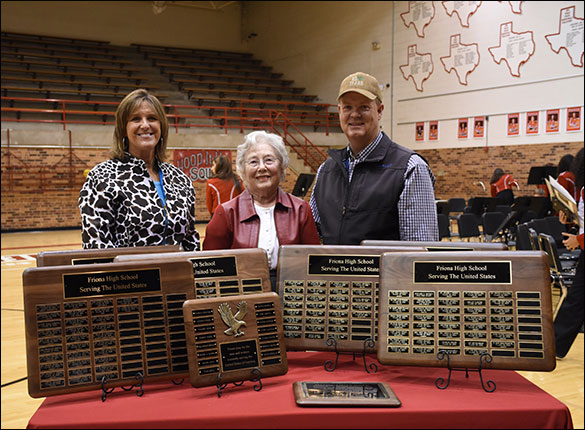 dana jameson photo
The hard work of the Class of 2015 and Nancy Edelmon, center, was presented to honor veterans who attended Friona High School. Sandra Berend, Class of 2015 sponsor and Friona Independent School District Board President Ricky Barnett join Edelmon with the plaques that will be displayed at the entrance of the FHS gymnasium.
This week we began talking about Santa letters. Can you believe it? We set a deadline of December 7 for the primary and elementary schools to have Santa letters in. (more...)
Come on Ho! Ho! Home for the Holidays!
The Friona Chamber of Commerce and Agriculture will kick off a very busy holiday season on Monday, November 16 and running through Thursday, December 17 with Ho! Ho! Home for the Holidays! Shoppers are encouraged to sign-up to win $25-$100 in Friona Bucks. Participating merchants will display canisters for customers to register when they visit local businesses. Each time you shop with a participating merchant you have the opportunity to sign-up and win. (more...)
By Ricky White
Greetings! I would like to begin by giving thanks to every veteran, past and present, for their dedication, commitment and most of all, their sacrifice serving this great country to preserve our freedom. (more...)