Squaws sweep Childress in bi-district
From Coach Bryan Masse
The Friona Squaws varsity volleyball team traveled to Canyon Randall to take on Childress in a bi-district contest. The ladies came out ready to play and won the first game 25-16. Good serving and passing allowed Kendall Barnett to run the offense effectively.
All of the hitters were able to get off to a good start. In game two the Squaws missed seven serves which allowed Childress to hang close but good defense by Taylor Stallings, Courtney Bunker, Paige Upton, and Bailey Pope helped the Squaws close game two 25-19.
In game three Kim DeWit, who was already doing a good job hitting, stepped up her blocking to help shut down the Lady Cats. Evelyn Lozoya added a block while playing smart at the net. DeWit finished the night with 12 kills and Paige Upton added 9 kills. Barnett had 23 assists, Stallings had 10 digs and Bunker 7 digs. Erica Barrera served well in game three when we were struggling with consistent serving which helped the ladies pull out game three 25-14.
The Squaws would like to thank the student body and all of the parents and fans that came out to support us. We will play Shallowater at 6:00 p.m. Saturday November 7 at Lubbock Christian University Rip Griffin Center in the area round of the playoffs.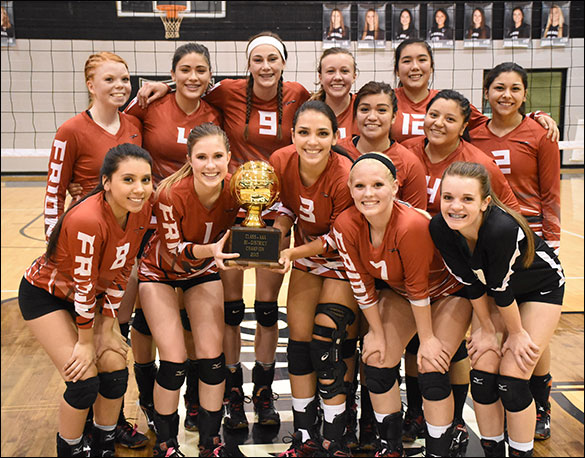 ron carr photo
The 2015 bi-district champion Friona Squaws swept Childress 3-0 Tuesday night at the Canyon Randall gym. The girls will play Shallowater in area competition Saturday November 7 at 6:00 p.m. at the Rip Griffin Center on the Lubbock Christian campus. Bringing home the bi-district gold were, back row, l-r, Paige Upton, Erica Barrera, Kim DeWit, Bailey Pope, Cassie rocha, Mariah Trevino, Salma Escamilla, Raquel Davila; front, l-r, Sabrina Barraza, Courtney Bunker, Evelyn Lozoya, Kendall Barnett, and Taylor Stallings.