Obituaries
Barbara Gayle White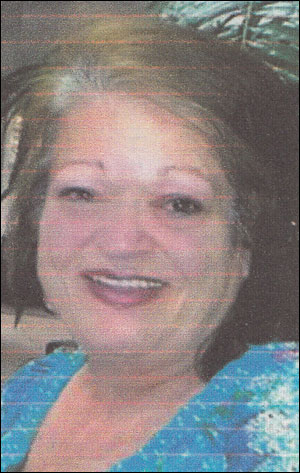 Barbara Gayle White, 65, of McGehee, AR passed away Thursday, December 25, 2014 at her home in McGehee. Funeral services were held Sunday, December 28, 2014 at Griffin-Culpepper Funeral Service Chapel in McGehee with Dr. Ed Balducci officiating. A memorial service will be held Friday, January 2, 2015 at 2 p.m. at Calvary Baptist Church in Friona.
Barbara was born in Dermott, AR on April 16, 1949 to the late Horace Frank and Virginia Windham Garrison. Barbara loved to quilt and made great cinnamon rolls. She formerly worked in the Friona Texas School Cafeteria. Barbara loved her family with all her heart and was very dedicated to her family. She was a member of First Baptist Church of McGehee.
Other than her parents, she is preceded in death by four sisters, Shirley Peacock, Bonnie Brantley, Sandra Garrison, and Janice Teague; and one brother, Kenny Garrison.
She is survived by her husband, Ronnie White; two sons, David White of Dallas, TX and Russell White and wife Tara of Andover, MN; two daughters, Teresa White of Dallas, TX and Jennifer Boyster of McGehee, AR; two brothers, Gary Garrison of Monticello, AR and Larry Garrison of Thornton, CO; four sisters, Ana Stacia McCoy of Sherman, TX, Rita Minchew of McGehee, AR, Karen Minchew of Malvern, AR, and Paula Garrison of Hot Springs, AR; six grandchildren, Brooke White, Bree White, Britt White, Julia Chambless, Austin Boyster, and Lauren White; and one great granddaughter, Addison White.
Online guestbook may be signed at www.griffinculpepper.com
Dale Wade Berggren
Dale Wade Berggren, 79, of Farwell, died December 24, 2014 in Farwell. Graveside services were held Monday December 29, 2014 at the Bovina Cemetery with Rev. Brian Mullins, pastor of First Baptist Church in Bovina, officiating. Burial followed by Blackwell-Mullins Funeral Home of Friona.
Dale was born June 19, 1935 in Farwell, Texas to Leroy and Ruth Wade Berggren. He served in the United States Marine Corp. He was an area rancher that loved cattle, horses, dogs, tractors, and dirt bikes.
He is preceded in death by his parents and a brother Scott Berggren.
He is survived by one daughter, Susan Martinez of Tucumcari, New Mexico; one son, Gary Berggren of Oklahoma; one sister, Elizabethann Tabor of Arkansas; one brother, Dave Berggren of Roswell, New Mexico; four grandchildren, Lynda Cline, Bryan Holmes and wife Clarissa, Kasey Martinez and Cody Martinez; and eight grandchildren.
You may sign the online register book at www.blackwellmullins.com