Mayor proclaims Volunteer Firemen Week
The Friona city council met in regular session Monday March 9. Councilman Greg Lewellen was absent.
Mayor Rick White opened the meeting by reading a proclamation designating the week of April 20 as Friona Volunteer Firemen Appreciation Week. The proclamation is printed elsewhere in this Star. Fire Chief Jim Taylor and fire department training office John Taylor were present for the proclamation.
City manager Patricia Phipps said the bid received for the property on Austin St. was not signed so the property sale will be re-bid. Notice of the bid is in this Star.
A settlement with NG Painting for the painting of the north well tank was discussed and approved. The city withheld $37,000 from the final payment because the contractor was 74 days over the contract limit.
As expected the council officially canceled the May 9 city election since there were three seats available and three candidates for both the city and school board.
Police Chief Isidro Jimenez gave his monthly report. The police department received 590 calls for service in February. They issued 68 citations and made 11 arrests, five of those for no driver license.
Randall Field of Muleshoe presented the fiscal year audit report. He complimented the city staff and council on a positive report. The next meeting of the city council is Monday, April 13, at 6:30 p.m. in council chambers, 619 Main St. All council meetings are open to the public.
For a more detailed look at city business see the Mayor's Minutes on page two.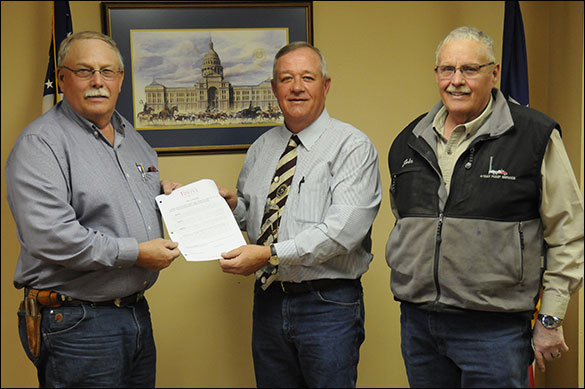 ron carr photo
At Monday's city council meeting Mayor Rick White read a proclamation designating the week of April 20 as Volunteer Firemen Appreciation Week. Fire Chief Jim Taylor, left, with Mayor Rick White and fire department training officer John Taylor are shown receiving the proclamation.