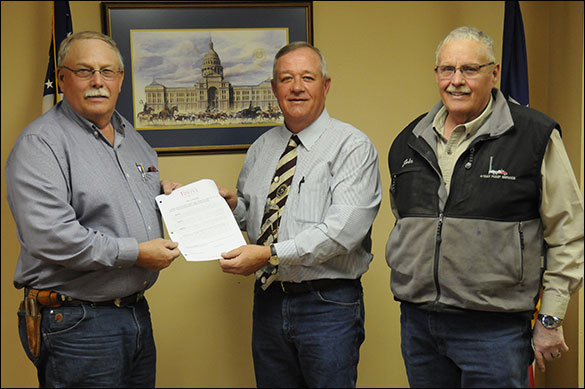 ron carr photo
At Monday's city council meeting Mayor Rick White read a proclamation designating the week of April 20 as Volunteer Firemen Appreciation Week. Fire Chief Jim Taylor, left, with Mayor Rick White and fire department training officer John Taylor are shown receiving the proclamation.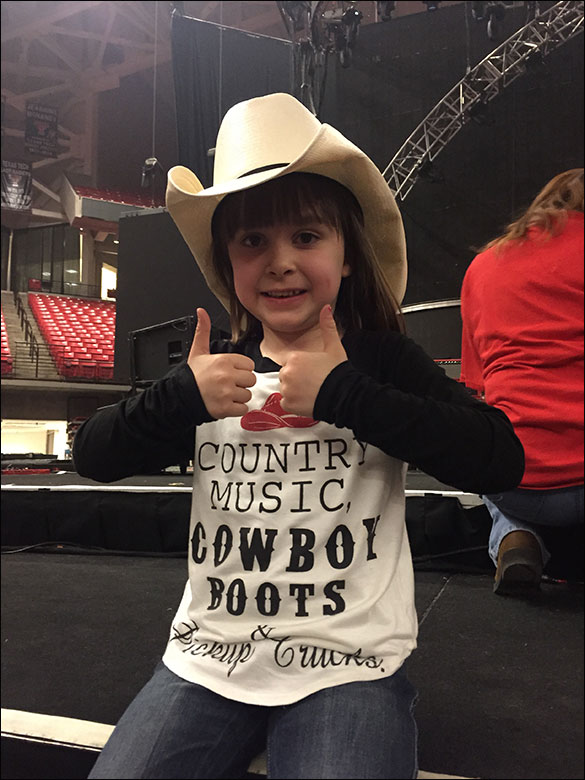 courtesy photo

Shelby Lewellen is wearing a hat but not just any old hat. Shelby scored Brad Paisley's hat when she went to a concert in Lubbock with her mom Jamie Lewellen. After Paisley's final song he put his hat on Shelby's head while she was perched on Jamie's shoulders in front of the stage. Shelby said it was her best night ever. The band inside the hat says "Made by Stetson especially for Brad Paisley."

What can we say about the weather? Sunny one day, snowy the next. Plays havoc with lots of people's plans, getting to work, doctors' appointments, and shopping trips. More winter stuff forecast for the weekend. Maybe you saw one of our Friona snow photos on Doppler Dave's weather forecast at 6:00 p.m. Monday. Better go fill up your vehicle and stop by the grocery store. (more...)
Mayor proclaims Volunteer Firemen Week
The Friona city council met in regular session Monday March 9. Councilman Greg Lewellen was absent.
Mayor Rick White opened the meeting by reading a proclamation designating the week of April 20 as Friona Volunteer Firemen Appreciation Week. The proclamation is printed elsewhere in this Star. Fire Chief Jim Taylor and fire department training office John Taylor were present for the proclamation.
City manager Patricia Phipps said the bid received for the property on Austin St. was not signed so the property sale will be re-bid. Notice of the bid is in this Star. (more...)
'Friona Feeds the World' banquet theme
The Friona Community Center will be the place to be at on Thursday, March 26 as the 59th Annual Friona Chamber of Commerce Banquet will kickoff at 6:30 p.m. The theme for this year's banquet is "Friona Feeds the World" and the decorating committee will be utilizing burlap and lace for the tables.
The community is invited to enjoy the dynamic speaker, Brandon Slay. Slay was the freestyle wrestling gold medalist at the 2000 Olympic Games in Sydney, Australia. (more...)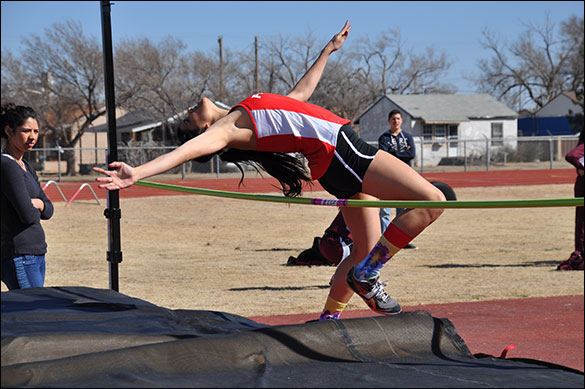 dana jameson photo
FHS Senior Christina Green clears the bar in the High Jump at the Chieftain Relays held on Friday, March 6. Christina placed 4th in the event. Only three teams participated in the track meet. The Squaws won 1st place in team points with 240 followed by Tulia, 172, and Farwell, 113. The Varsity Chiefs beat Tulia 298 to 203. The JV Chiefs had 248 team points. More results on page 7.