Obituary
Raymond G. Delgado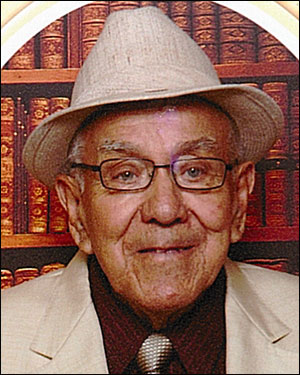 Raymond G. Delgado, 87, of Amarillo, TX, formerly of Friona, died Friday, June 26, 2015 in Amarillo, TX. Funeral services were held Tuesday, June 30, 2015 at First Baptist Church in Friona, with Brother Antonio Rocha, of Templo Bautista of Friona, officiating. Burial followed in the Friona Cemetery. Arrangements were under the direction of Blackwell-Mullins Funeral Home of Friona.
Raymond was born on September 20, 1927 in Corpus Christi, TX to Alfonso Delgado and Dolores Moya Meason Delgado. He married Jovita Reboriosa on June 5, 1950 in Eagle Pass, TX. Raymond was employed by Friona Independent School District as a janitor and school bus driver for 22 years before he retired, he was also a Baptist Minister in Friona at Templo Bautista and in Bovina. His hobbies included doing carpenter work, gardening, and volunteering at hospitals in Amarillo.
He was preceded in death by his parents; his wife, Jovita Delgado; two sons, Manuel Garcia and Lazaro Delgado; three daughters, Anna Delgado, Juanita Felix, and Anita Delgado; three brothers; and three sisters.
Survivors include five sons, Ramon Delgado, Jr. of Hereford, TX, Aurelio Delgado of Canyon, TX, Alfonso R. Delgado of Amarillo, TX, Joe Delgado of Ennis, TX, and T. J. Sanchez of Amarillo, TX; four daughters, Mary Helen Ramirez of Amarillo, TX, Olivia Espinoza of Tonopah, AZ, Dolores Lupo of Las Vegas, NV, and Estella Delgado of Hereford, TX; 30 grandchildren; 81 great-grandchildren; and 35 great-great-grandchildren.
To sign the register book online go to www.blackwellmullins.com