Lost wedding ring found after 65 years
On June 1, 1926, G.B. "Pete" Buske and Lila Myrl Crow were united in holy matrimony. To commemorate the occasion Pete had 'MB 1926' engraved inside the ring he gave his lovely bride.
That ring came up missing in 1950 when they moved into their newly built home on Euclid in Friona. The ring remained missing until just recently when Greg and Jamie Lewellen took possession of the home.
The previous owners of the home, Dr. and Mrs. Jeff Dickson's son, Jacob, had found the ring when he was sweeping up his room before they moved. He put the ring aside thinking it belonged to someone else.
While Jamie was cleaning she found the ring. After a bit of study she found the engraved 'MB 1926' and knew she had found something important.
Jamie consulted her mother, Connie Slagle, and her church friend, Barbara Mason, and the three women put their heads together to find out who this precious ring belonged to.
Their first clue was that the house was built in 1950 by Pete Buske. Pete passed away in 1976 and Myrl continued to live in the home until her death in 1991.
The next clue was found at the Friona cemetery when Connie compared dates and initials on the Buske's graves. The final part of the puzzle was provided by Barbara, who knew the Buske children. She contacted the Buske's daughter, Lila Buske Vars who lives in Canyon.
After 65 years of being 'lost', on Thursday, June 26 Lila made the short trip to Friona and her old home to receive the ring from Jamie and Barbara.
"This is incredible," stated Lila. "I remember mom loving this place. This place has great memories for me."
According to Lila, the house was built for comfort. It not only had four bedrooms but an office, music room and a special apartment for visiting preachers.
The Buskes raised three daughters, Deanna, Lila and Phila and one son, B.K. in the home. After Myrl passed away B.K. and his family moved into the home. They made a number of changes to the home but the ring still was not found.
"We did a thorough house cleaning when mom passed away," explained Lila, "and we didn't find the ring at that time."
According to Lila, Myrl had four or five sets of wedding rings. Each set was nicer than the previous set. One set even came up missing after visitors spent the night. But, the first one was lost while Myrl was cleaning.
The Dicksons bought the house and raised their children there before moving to College Station this year.
The Lewellens moved into the house on June 8 and set about raising their two daughters.
"It is really great that this house has been home to families with Friona roots that go back so many years," stated Lila.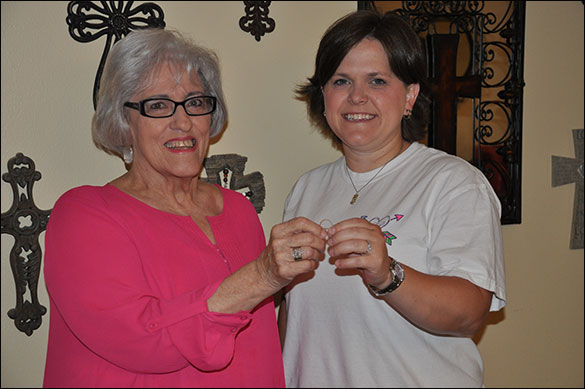 dana jameson photos
Jamie Lewellen, right, returned the wedding ring of Myrl Buske to Lila Buske Vars. Lewellen found the ring while cleaning after her family moved into the home built by Vars' father Pete Buske.