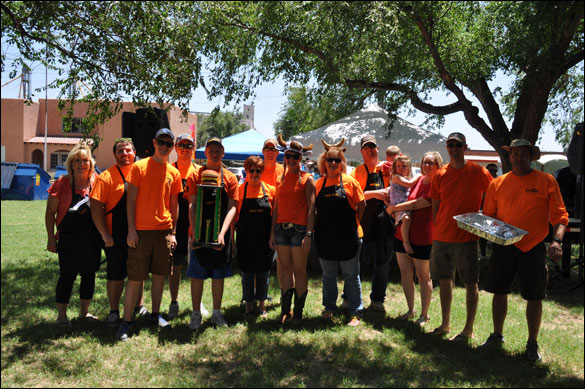 dana jameson photo
The Cheeseburger Cook Off team from Sweet Bran-Bovina won first place for best cheeseburger at Saturday's Cheeseburger Festival. They donated the $1,000 prize money plus another $1,000 to the Bovina Fire Department. Thanks to Sweet Bran and all of the other cook teams for participating in the cook off. Members of the team were, l-r, Jan Cullen, Steve Cullen, Nick Klauke, Kevin Davis, Tyler Meland, Cindy Simmons, Jackson Zaharia, Jessica Zaharia, Cheryl Smith, Shay Smith, Sterling Smith, Brynlee Smith, Ashley Smith, Ethan Peterson and Matt Meland.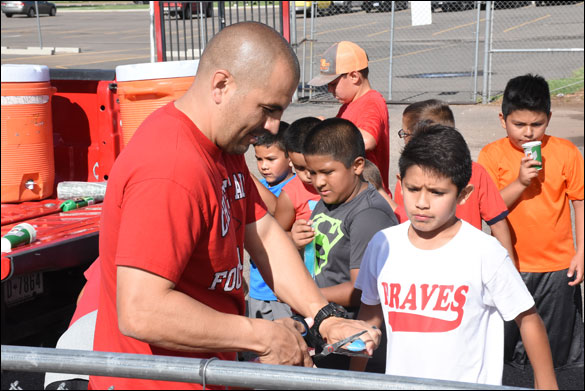 ron carr photo
Chieftain Athletic Director/Head Coach Jimmy Arias helps these boys by cutting off the end of the popsicles during a break in the football camp this week. Coach Arias has a full coaching staff and will soon be ready for the beginning of Chieftain football practice for another year. The official UIL first day of football practice is August 3. The chiefs will scrimmage at Panhandle August 15 and scrimmage Sundown here August 21 at 6:30 p.m.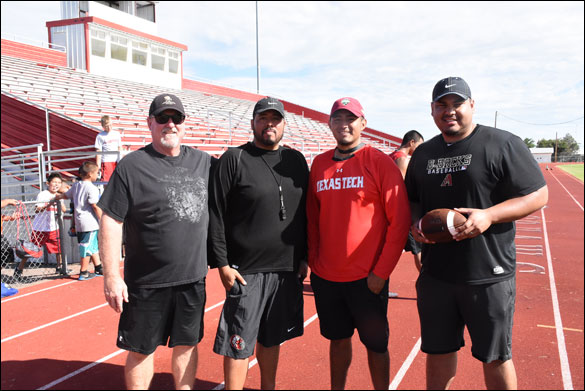 ron carr photo
New coaches for Friona football this year were breaking in at the annual football camp this week. They are, l-r, Mike Royal, Fabian Flores, Daniel Rosales, and Miguel Porchas. Royal, Flores, and Rosales are all FHS graduates. Porchas is the new junior high coach.
Official weather guy John Gurley reports Friona received 0.41" of rain Monday night. New Friona coach Mike Royal still living in Amarillo says he had 3.5" in his gauge Tuesday morning. I40 in Amarillo was closed both directions at Washington due to flooding. The Channel 10 broadcast from the Bovina city park moved into the Bovina gym for the 10 p.m. news because of wind and rain in Bovina. (more...)
Cargill Sweet Bran wins 1st place at Cheeseburger Festival
The 10th Annual Texas Cheeseburger Festival and Cook-off is now in the history books and those attending enjoyed the delicious cheeseburger offerings by the twelve teams that were competing for the top honor. (more...)
Calling all ex-students and teachers!
The All-School Reunion is set for September 19, 2015 at the Friona Community Center. Reservations in the amount of $15 for the meal need to be paid by August 15, 2015 to: Marca Herring, Friona InterBank, P.O. Box 549, Friona, TX 79035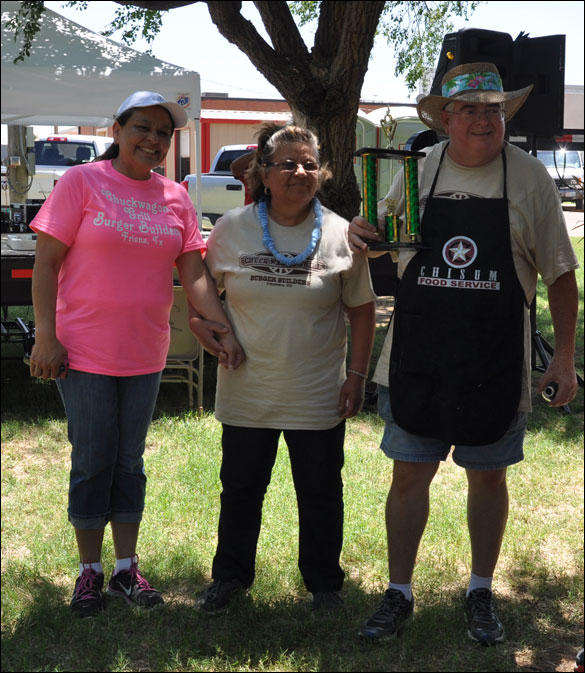 dana jameson photo
CWG (Chuck Wagon Grill) Burger Builders won 2nd place and $300 at the 10th Annual Texas Cheeseburger Festival held Saturday, July 18 in the Friona City Park. Team members shown with their trophy are, l-r, Alma Norwood, Esparanza Herrera and cook Gary Shaw.