Obituary
Leon Coffey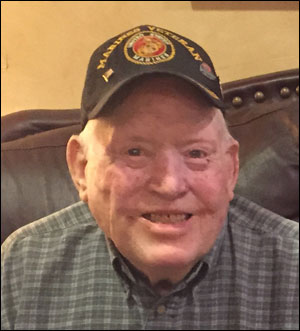 Leon Coffey, 85, of Logan, New Mexico, formerly of Friona, died June 30, 2015 in Tucumcari, New Mexico. Funeral services were held Friday, July 3, 2015 in the First Baptist Church of Logan with Rev. Steve Kulback, pastor, officiating. A private family burial was held on July 3 in the Melrose, New Mexico Cemetery under the direction of Dunn Funeral Home of Tucumcari.
Leon was born February 12, 1930 in Ralls, Texas to J.L. and Clare Griffin Coffey. The family moved to Melrose in 1936. He had six brothers, Verlin, Lee Roy, Robert, Leonard, Herman and O.B. and four sisters, Ruby Terrill, Ollie Mae Henry, Louise Heddins and Wanda Richmond.
He graduated from Melrose High School in 1950 and joined the United States Marines in 1951. After he returned home he moved to Friona. Leon was a partner in the City Body Shop in Friona. He moved to Logan in 2003. Leon married Laura Hardesty, April 30, 1955 in Clovis, New Mexico. They celebrated their 60th wedding anniversary this year.
Leon is survived by his wife, Laura; one son, Roger Coffey and wife Jerrie, of Amarillo, Texas; one daughter, Janice Coffey Stowers and husband Ken, of Amarillo; one sister, Wanda Richmond of Logan; two sisters-in-law, Thelma Coffey of Clovis, and Thelma Coffey of Belen, New Mexico; four grandchildren, Courtney Hollingsworth and husband Kyle, Trevor Stowers, Keven Coffey, Kristen Reynonds and husband Mike; and three great-grandchildren, Kambry, Klaire and Kelby Hollingsworth.