Council approves lower tax rate
The Friona city council met in regular session Monday August 10. Councilman Greg Lewellen was absent, Mayor Rick White presided.
The first item of business was to hear from Parmer County Appraisal District chief appraiser Jill Timms about setting the property tax rate for the new fiscal year, October 1, 2015 through September 30, 2016. After a brief discussion the council approved a .7512 rate per $100 of assessed value, a decrease from the current rate of .7979.
After her visit to the city council meeting Mrs. Timms was scheduled to give presentations to the Friona, Bovina, and Lazbuddie school boards. She had a busy night.
Friona Police Chief Isidro Jimenez gave the July police activity report. The officers made 111 stops in July and issued 57 citations. They had a total of 250 calls for service.
A property bid on 1.08 acres was awarded to the credit union and the city approved the purchase of 160 acres north of the city from John Mars. A discussion on a rate increase by Republic Services for trash pick-up in the city was held but no action taken. The city manager was authorized to transfer funds from the water & sewer to the general fund, from the sewer account to the interest and sinking fund, and from the general fund to the fire department. She was also authorized to transfer funds for Prairie Acres as needed until the ownership transfer is official.
At the request of the Chamber of Commerce, the council approved sidewalk sale permits for all merchants every year during Maize Days, Cheeseburger Festival, July 4, and Christmas in the Park. It means merchants can hold a sidewalk sale during those four events without individual permits.
The council reviewed and approved an updated ordinance pertaining to firearms and shooting ranges within the city limits outlining the limits and penalties.
The council will hold a budget workshop August 31 at 6:30 p.m. On that agenda the council will face the discussion of an increase of 25% in health insurance premiums for city employees.
The next regular meeting of the city council will be Monday September 14 at 6:30 p.m. in council chambers, 619 Main St. All council meetings are open to the public.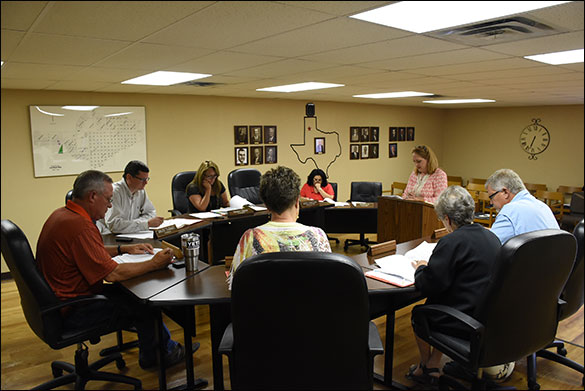 ron carr photo
Parmer County Chief Appraiser Jill Timms addresses the Friona city council at Monday's meeting. After her presentation the council adopted a .7512 per $100 of assessed value tax rate, a decrease from the previous rate of .7979. Clockwise from the right are Alan Monroe, Martha Barker, city manager Patricia Phipps, Mayor Rick White, Bruce Fleming, Nancy Davis, and assistant city secretary Rosa Mendoza.