Obituaries
Javier Martinez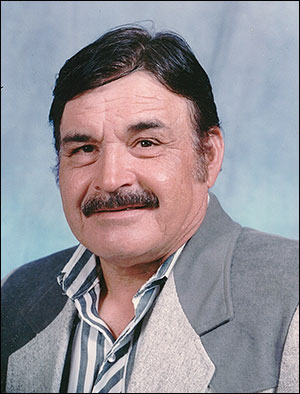 Javier Martinez, 72, of Friona, TX, died on Sunday, August 9, 2015 in Canyon, TX. Mass of Christian Burial will be held at 10:00 a.m. on Thursday, August 13, 2015 at St. Teresa's Catholic Church with Reverend Anthony Swamy Aakula, Pastor, and Reverend Ed Sweeney, retired Pastor. Burial will follow in Friona Cemetery. Arrangements are under the direction of Blackwell-Mullins Funeral Home of Friona.
Javier Martinez was born on December 3, 1942 in Durango, Mexico to Carmen Martinez and Elena Medina Martinez. He married Lucy Reyes in July 1973 in Juarez, Mexico, she preceded him in death in 1993. He had worked as a farm laborer for GB (Gary Brown) Farms for many years. His hobbies included: growing fruit and vegetables, gardening, horses, welding, watching basketball, especially the San Antonio Spurs and baseball, boxing, and raising chickens and roosters.
He was preceded in death by his parents, Carmen and Elena Martinez and his wife, Lucy Martinez.
Survivors include two sons, Javier Martinez of Denver, CO and David Martinez of Amarillo, TX; one daughter, Lisa Guevara and husband, Hector of Canyon, TX; two brothers, Manuel Martinez and wife, Elvira of Yucaipa, CA and Jesus Medina and wife, Olga of Juarez, Mexico; three sisters, Rosario Medina of San Gabriel, CA, Elvia Medina of Juarez, Mexico, and Jesusita Romero and husband, Enrique of El Paso, TX; two granddaughters, Evie Guevara and Emma Guevara both of Canyon, TX.
Memorials can be made to Hospice Care of the Southwest, 6600 Killgore Drive, #110, Amarillo, TX 79101.
You may sign the online register book at www.blackwellmullins.com.
Joao Alberto Ferreira, 59, of Friona, died Friday, August 7, 2015 in Friona. Memorial services have been scheduled for 7:00 p.m. Thursday, August 13, 2015 at the Blackwell-Mullins Funeral Home in Friona. Arrangements are under the direction of Blackwell-Mullins Funeral Home of Friona.
Mr. Ferreira was born August 18, 1955 in Portugal to Mario Ferreira dos Santos and Lucinda Candida Vaz Ferreira. He loved his family, bullfighting, singing, playing soccer and woodworking.
He is preceded in death by his parents and two brothers.
Survivors include one daughter, Desirae Ferreira of Friona; two sons, Donald Ferreira of Canyon, and Jessie Ferreira of Dallas; three brothers, Jose Ferreira of Las Vegas, NV, Mario Santos of California, and Luis Santos of Chino, CA; three sisters, Alda Santos and Maria Santos of San Bernardino, CA and Eva Ponte of Ontario, CA; and six grandchildren.
You may sign the online register book at www.blackwellmullins.com