Chiefs win opener, beat Olton 20-14
The debut of new Athletic Director/Head Coach Jimmy Arias and several new coaches was eagerly anticipated by Chieftain fans who showed up to fill the stands for the Chieftain season opener with the Olton Mustangs.
There were many question marks for the 2015 Chieftains. Several lettermen from last year's squad chose not to play this season leaving new players at several skill positions and a challenge for the coaching staff.
Senior running back Gabriel Chico who led the team in yardage last year is the key to this season's offense. Cris Alvarez was moved to quarterback. Senior Mason Mireles, junior Luis Trejo, and sophomore Marco Maldonado round out the backfield. Jonathan Hernandez, the only freshman on the team, looks to be a starter at wide receiver and linebacker.
Led by Gabriel Chico's 187 yards rushing on 19 carries, the Chieftains gave Coach Arias his first win, beating the Mustangs 20-14 in spite of a one hour lightning delay. The Chiefs led 14-0 at the half but Olton scored 14 points in the 3rd quarter to tie the game.
In the 4th quarter Alvarez led a drive and scored on a keeper from the two yard line giving the home team a 20-14 lead. Olton was driving in the 4th and looked like they would score but Marco Maldonado intercepted an Olton pass in Chieftain territory and the Chiefs ran out the clock to start the season 1-0.
Alvarez was 8 for 11 in passing for 97 yards and the Chiefs picked up 239 rushing yards. The Chieftain defense held Olton to 278 total yards, 162 rushing and 116 passing. Tristan Castillo led the defense. He was credited with 8 tackles, helped along by Hernandez and Mireles with 7 each.
The Chiefs host the Abernathy Antelopes here Friday September 4. Last week Post beat Abernathy 25-0 in a game delayed two hours by lightning. The Abernathy game is senior parents' night with activities beginning about 7:00 p.m.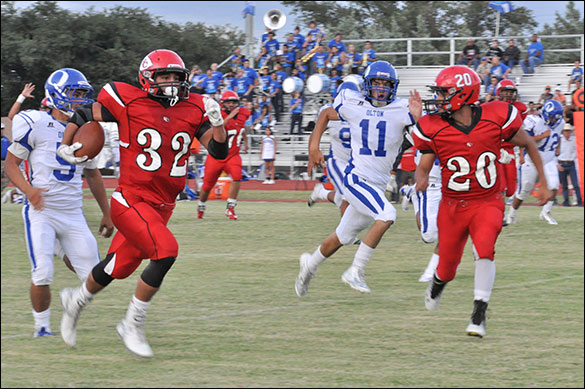 dana jameson photo
Gabriel Chico (32) gets some help from Cris Alvarez (20) on his way to a 54-yard touchdown run against Olton. Chico scored two touchdowns in the 20-14 Chieftain win. He gained 187 yards on 19 carries. Next up is Abernathy Friday night. Senior parents night activities begin about 7:00 p.m. Kickoff is 7:30 p.m.