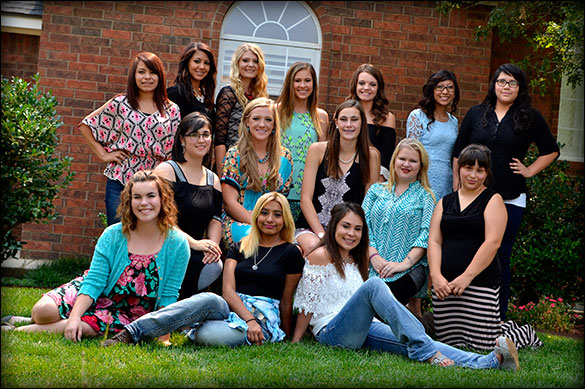 courtesy photo
Miss Friona 2015 will be crowned on Saturday, September 15 at the Friona High School Auditorium. The young ladies that will be competing for the coveted crown are, back row, l-r, Jocelynn (JoJo) Chacon, Sierra Mendoza, Aspen Fleming, Courtney Bunker, Taylor Stallings, Lorena Soto and Natalie Avilez. Middle row, l-r, Hillary Bermea, Sydney Frye, Kim DeWit, Claudia Alexander and Leticia Parra. Front row, l-r, Brooklynne Johnston, Gabby Rodriguez and Chelsie Elizabeth Gomez. Good luck to these young ladies.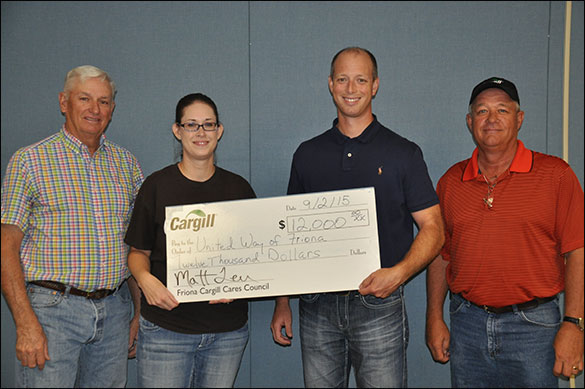 dana jameson photo
Cargill Meat Solutions made a donation of $12,000 to the United Way on Wednesday, September 2. On hand for the presentation were, l-r, John Gurley, Sarah McFarland, Matt Leu and Rick White.
Out Here by Ron Carr:
New tree has special meaning
It is a lacey bark elm.
The journey of how it got there was a long one. (more...)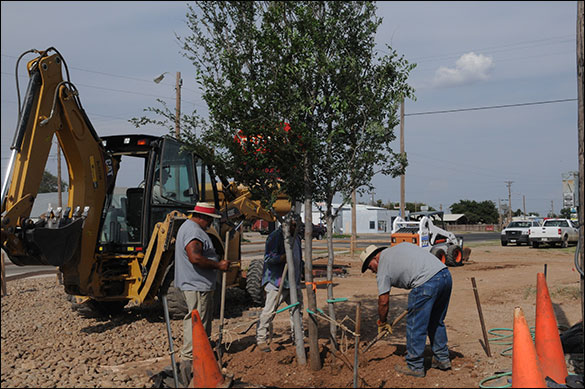 holly campbell photo
City employees last week planted an elm tree in the landscaped area by the post office at Hwy 60 and Main. Landscaping of the area was suggested to the city a few years ago by local realtor Holly Campbell. Her office is across Hwy 60 from the lot which was vacant and unkempt for years. The city has since provided the work and landscape material, including an electronic sign. Mrs. Campbell donated the funds to purchase the elm tree. Thanks to the city and to Holly Campbell and the city employees for their efforts. The area is definitely an asset to the city.

A little rain and lightning during the Chieftain game in the 3rd quarter Friday night resulted in about a one hour game delay. We didn't get much rain out of it though. The Chief's game ended around 11:00 p.m. and the Chiefs beat Olton 20-14.
*****
Friona Class of 2015 graduate and valedictorian Haden Smiley is now safely ensconced in his dorm at Harvard University, located in Cambridge, Massachusetts, near Boston. Haden flew up to school. His parents Mitchell and Kim and brother Clayton drove in Mitchell's Suburban and hauled Haden's stuff for the dorm. Haden chose not to have a vehicle there since public transportation is popular and frequent. (more...)
The Friona Chamber of Commerce is calling upon all area veterans to be the Grand Marshalls of the 59th Annual Maize Days Celebration and parade on Saturday, September 19. The parade will begin lining up at 9 a.m. on Euclid Street and proceed down Main Street at 10 a.m. Friona would like to honor the veterans and show their pride for their service to our country. Veterans are asked to contact the Chamber office at (806) 250-3491 for more information.

Maize Days just around the corner
Fall is in the air and harvest is underway so it must be Maize Days celebration time. The 59th Annual Maize Day Celebration will get off to a grand start on Saturday, September 12 with the crowning of a new Miss Friona and Little Miss Friona. The pageants will begin at 6 p.m. at the Friona High School Auditorium. Darrel Ray will be the emcee for the pageant. (more...)
Chiefs win opener, beat Olton 20-14
The debut of new Athletic Director/Head Coach Jimmy Arias and several new coaches was eagerly anticipated by Chieftain fans who showed up to fill the stands for the Chieftain season opener with the Olton Mustangs.
There were many question marks for the 2015 Chieftains. Several lettermen from last year's squad chose not to play this season leaving new players at several skill positions and a challenge for the coaching staff. (more...)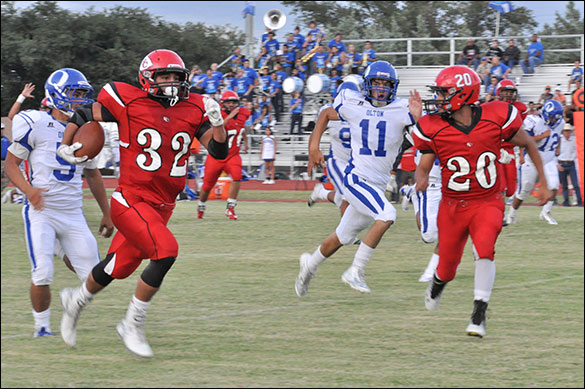 dana jameson photo
Gabriel Chico (32) gets some help from Cris Alvarez (20) on his way to a 54-yard touchdown run against Olton. Chico scored two touchdowns in the 20-14 Chieftain win. He gained 187 yards on 19 carries. Next up is Abernathy Friday night. Senior parents night activities begin about 7:00 p.m. Kickoff is 7:30 p.m.