Obituary
Ramona Mendoza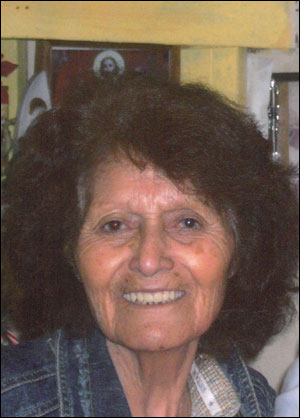 Mass of Christian Burial for Ramona Mendoza, was celebrated Monday, October 17, 2016 at St. Teresa's Catholic Church with the Reverend Anthony Neusch, pastor of St. Anthony's Catholic Church, as Celebrant. Interment followed in Friona Cemetery under the personal supervision of Parkside Chapel Funeral Home. Mrs. Mendoza, 87, Hereford resident, passed away October 13, 2016 in Hereford.
Ramona Mendoza was born May 19, 1929 in Pflugerville, Texas to Daniel and Rumalda Cruz Mendoza. Ramona married Gilde Flores, Sr. in January of 1953 in Sanderson, Texas. She moved to Hereford from Friona forty years ago. She had worked in vegetable sheds and then was a restaurant cook for many years. She was a very compassionate and loving mother who was devoted to her children and showed them unconditional and endless love. Ramona loved her family and always showed them love, respect and value. She will be greatly missed.
Surviving are her husband, Gilde Flores, of Hereford; five daughters, Silvia Flores, Janie Rendon, and Mely Gamez and husband James all of Hereford, Elva Padilla and husband Joe of Buford, Georgia, and Ida Vazquez and husband Refugio of Friona; one son, Gilde Flores, Jr. and wife Zelda, of Hereford; four brothers, Joe Mendoza of Friona, Julian Mendoza of Leoti Kansas, Nemecio Mendoza of Plainview, and Abel Mendoza of Amarillo; nine sisters, Maria Alacron of Odessa, Lupe Pesina of Hereford, Faustina Carrillo of Friona, Victoria Saucedo of Guadalajara, Mexico, Alicia Gonzales, Mary Prieto and Molly Casarez all of Friona, Janie Cooklin of Otis, Indiana, and Santos Rosales of Friona; her beloved pet Chihuahua, Leslie; 11 grandchildren; and 20 great-grandchildren.
Mrs. Mendoza was preceded in death by her parents; five brothers; daughter, Juanita; and a granddaughter.
The family would like to thank the ladies of St. Teresa's Catholic Church of Friona for the food, prayers and flowers.
The family suggests memorials in Mrs. Mendoza's name be made to: American Arthritis Foundation, 1355 Peachtree St NE, Suite 600, Atlanta, GA 30309.