Obituary
Joe McWhorter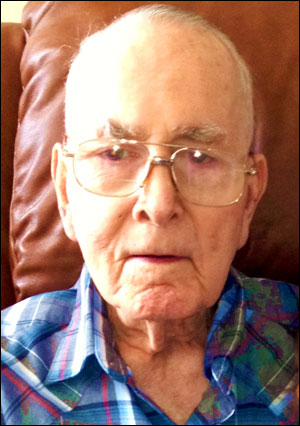 Joe McWhorter, 91, formerly of Plainview, TX, died Wednesday, February 10, 2016 in Friona. Funeral services were held Saturday, February 13, 2016 at 6th Street Church of Christ in Friona with Jeff Procter, minister, officiating. Burial followed in the IOOF Cemetery in Plainview under the direction of Blackwell-Mullins Funeral Home of Friona.
Joe was born to Edwin Mitchell and Bertha Thelma Goodwin McWhorter on September 7, 1924 in Commerce, Texas. He married Helen Louise Sinclair on February 24, 1950 in Plainview where they lived for many years. He worked at Clover Lake Dairy, the Ice House and Plainview I.S.D. Joe was a very caring and compassionate person. He loved spending time with his family and enjoyed the mountains. He had a dry sense of humor. Joe was always busy helping people. He was a member of the Church of Christ.
He is preceded in death by his parents and wife Helen.
He is survived by two daughters: Lenda Trussell and husband Lanny of Muleshoe, and Glenda Procter and husband Ted of Friona; four grandchildren: Mickey Trussell, Charlotte Bynum and husband Tim, Crista Singer and Barry Procter and wife Tiffanni; five great-grandchildren, Ava, Cale, Cortlyn, Gus and Brittan.
Memorials may be made to Prairie Acres Nursing Home, 201 East 15th Street, Friona, Texas 79035. You may sign the register at www.blackwellmullins.com
Samuel Mendez Ruiz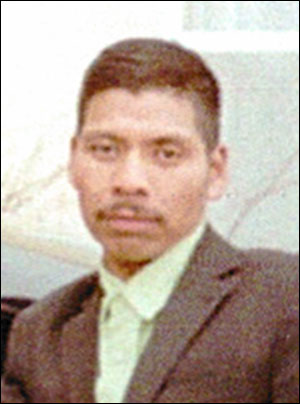 Samuel Mendez Ruiz, 36, of Friona, died Saturday, February 13, 2016 in Friona.
Viewing will be Saturday and Sunday, February 20 and 21, 2016 at Iglesia Evangelica Nuevea Jerusalen Church in Friona with services at a later date in Quiche, Guatemala.
Samuel was born January 16, 1980 in Guatemala to Mariano Mendez Garcia and Santa Ruiz Garcia.
He is survived by his wife Petrona Garcia Coj de Mendez; two sons, Marvin Mendez Garcia and Mariano Mendez Garcia, all of Guatemala; three brothers, Pablo Mendes Ruiz and Venancio Mendez Ruiz of Guatemala and Daniel Mendez Ruiz of Minnesota; two sisters, Rosa Mendez Ruiz, Marta Mendez Ruiz; his father, Mariano Mendez Garcia; brother-in-law, Pedro de la Cruz Morente; and father-in-law Francisco Garcia, all of Guatemala.
You may sign the online register book at www.blackwellmullins.com