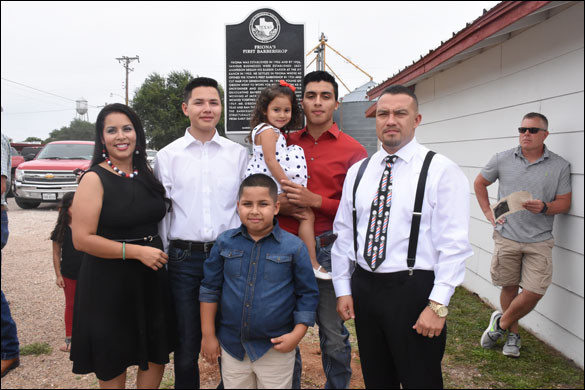 ron carr photo
The Chuck Mills family at Sunday's historical marker dedication. The building has been at the location on Main Street since 1926. Chuck is the current barbershop owner. Shown, l-r, are Esmeralda, Angel, Jade, Blayke, and Chuck. In front is Eden. A nice crowd attended the ceremony. Relatives of Jack Anderson and Lee Gibson were also present.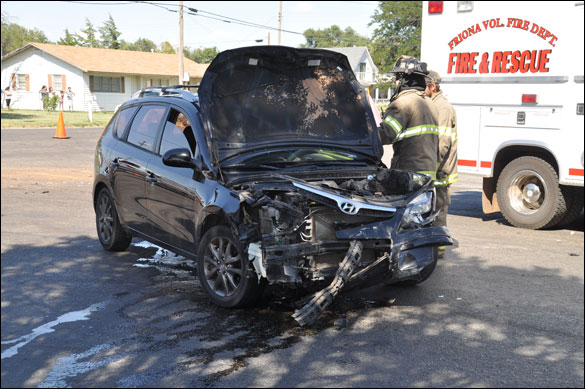 dana jameson photo
Friona firemen, EMS, and police worked an accident at 5th and Grand Tuesday afternoon about 4:30 p.m. This vehicle hit a pickup at the intersection. Two semis- in the area snagged an Excel Energy power line about the same time and stretched it down over the street causing the closure of the intersection for a couple of hours until it was repaired.
Official weather guy John Gurley gave me a rain chart that dates back to 2010. So far in 2016 (through July) we have received 7.61" of rain. During the same period of January-July in 2015 we had received 20.00". Altogether in 2015 we received 35.76". Maybe some rain this weekend they say.
*****
Another good blood drive last Thursday. Coffee Memorial said they collected 64 units of blood. Another 12 potential donors were deferred due to low iron or blood pressure issues. Melody Drake won the $50 Parmer County Implement gift certificate. Bonnie Pope and Marca Herring each won a Yeti Colster. Thank you to all of the faithful Friona donors who support the blood drive. (more...)

Star Football Contest Begins September 1st
After a one-year layoff the Friona Star Football Contest returns. We have revised the old format, increased the weekly prize money, and reduced the number of games to make the new contest more exciting and competitive.
The first contest entry will be in the Thursday September 1 issue of the Star. A contest entry blank will also be posted on our website, frionaonline.com, every Wednesday evening. (more...)