Obituaries
Bill Glyn Loafman
Bill Glyn Loafman, 74, a sales associate, went to be with our Lord Monday, August 8, 2016 in Dallas.
Funeral services were held Friday, August 12, 2016 at First Baptist Church of Decatur with burial in Solona Cemetery in Bowie. Rev. Mike Wheat officiated. Pallbearers include Wade Loafman, John Loafman, Kellen Miller, Lane Lowry, Scott Wells, and Rodney Davis.
Bill was born on April 22, 1942 to Loy and Vuthill (Logsdon) Loafman in Cumbie, Texas. He was united in marriage to Maxine Wells on February 16, 1972 in Amarillo. Bill was a sales associate for James Wood Motors for 31 years. He was a member of the Gateway Church in Southlake.
He was preceded in death by his parents.
Those left behind to cherish his memory are his wife of 44 years, Maxine Loafman of Decatur; his son, Stephen Miller and wife Susan of Red Oak; his daughters, Stephanie Lowry and husband Mark of Los Alamos, California, Terri Urban and husband Kip of Libertyville, Illinois; his brothers, Don Loafman and wife Janice of Plainview, Numan Loafman and wife Diana of Fort Worth; his grandchildren, Kellen, Lane, Madelyn, Laci, Payton, and Natalie; numerous nieces, nephews, cousins, and a host of friends.
Mildred Cooper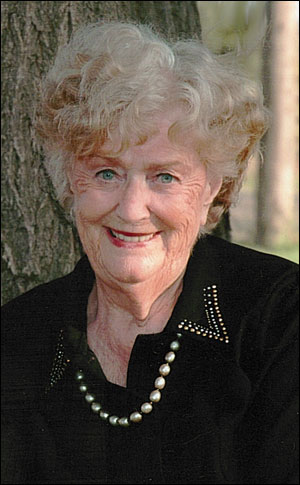 Mildred Cooper, 95, of Friona, formerly of Farwell, died August 11, 2016 in Friona. Graveside services were held at 11:00 a.m., Saturday, August 13, 2016 at the Oklahoma Lane Cemetery of the Oklahoma Lane Community with Rev. Brett Hoyle, pastor of the First Baptist Church in Friona and Rev. Vaughn Gossman, pastor of the Oklahoma Lane Methodist Church, officiating. Arrangements by Blackwell-Mullins Funeral Home of Friona.
Mildred was born November 17, 1920 in Haskell County, Texas to Joseph Lemuel and Carrie Belle Coleman Kirkpatrick. She married Lawrence Leslie Cooper January 28, 1939. They farmed and worked seasonally at cotton gins around Muleshoe and Lariat. They owned and operated Cooper Gin in Farwell from 1961 to 1992 where Mildred managed the gin office and was a superior cotton buyer and seller.
Mildred was a member of the Oklahoma Lane Methodist Church where she participated in WSCS Sunday School and she along with Lawrence were Methodist Youth Fellowship sponsors for many years.
She was an excellent seamstress and sewed for herself, family, and the public. Entries in her diary quoted her as staying home to make her mother a coat and making another a dress. Once she even made her husband a pair of undershorts from flour sacks, but he declined to wear them.
She is preceded in death by her parents, husband and one grandson, Christopher C. Cooper.
Survivors include one daughter, Leslie Rushing and husband George of Friona; two sons, Larry Cooper and wife Mary Ann of Springtown, Texas and Rickey Cooper and wife Kate of Eureka Springs, Arkansas; brother-in-law, Don Andrews of Tulsa, Oklahoma; five grandchildren, Royce Cooper of Ft. Worth, Will Rushing and wife Amy of Friona, Sarah Mansour and husband Paul of Temple, Robin Stoltzfus and husband Matthew of Lake Toxaway, N.C. and Cody Cooper of Eureka Springs; and 16 great-grandchildren.
Memorials may be made to Prairie Acres Nursing Home, Friona, Texas or the Oklahoma Lane Methodist Church .
You may sign the online register book at www.blackwellmullins.com
Ludene Terry Davis
Ludene Terry Davis, 79, Bovina, Texas, died Friday August 12, 2016 in Amarillo. Celebration of Life Services were held Sunday, August 14, 2016, at the Oklahoma Lane Methodist Church. Burial was held Saturday at the Oklahoma Lane Cemetery. Arrangements were by Blackwell-Mullins Funeral Home of Friona.
Ludene was born to J.J. and Margaret Terry on July 11, 1937 in Clovis New Mexico.
She loved being "Granny" to all children.
She was preceded in death by both parents and her brother, Melvin Terry.
She is survived by her five children, Diane Clayton of Guymon, OK, Terry Collins of O'Donnell, TX., James Williams of Amarillo, TX., Barbara Baker of Roswell, NM., and Beverly Frank of Guymon, OK; 10 grandchildren; and 11 great-grandchildren.
The family suggests contributions to Oklahoma Lane Cemetery or Oklahoma Lane Methodist Church in lieu of flowers.
You may sign the online register book at www.blackwellmullins.com
D.O. Robason left this world on August 13, 2016 to join the company of the Redeemed. He is out of pain and made whole at the feet of Jesus.
D.O. was born on April 24, 1935 in Friona, TX. He was saved at an early age and spent most of his life following Christ. He served in many Southern Baptist churches as a Deacon and in the church libraries. D.O. graduated from Friona High School in 1953 and was a member of the State Championship mile relay team.
D.O. married Carmel Fields, his Friona High School sweetheart, on May 16, 1954. She was always at home for him and his sons as he managed several different ranches in Texas. They have lived on the Island Grove Ranch west of Grandview for more than 40 years.
D.O. was first a farmer and rancher, and then started his own construction company. As a farmer, he ran a 200 head Holstein dairy farm in Siloam Springs, Arkansas, and received the "Outstanding Young Farmer Award" for having one of the most productive and modern dairies in a four state region. As a rancher, he became widely sought after for his expertise in artificial breeding and pregnancy checking. As a construction worker, he loved to build things and was always there to help family and friends if they had a need that his hammer and power tools could fix.
D.O. is survived by his wife, Carmel, of 62 years; three sons, Ricky Dean Robason of Covington, TX, Michael Ross Robason (Laura) of Lamesa, TX, and Troy Don Robason (Christine) of Elizabeth, CO; six grandchildren, Zachary Dean Robason (Melissa), Rebecca Caitlin Robason, Andrea Nicole Orht (Jared), Bryan Ross Robason (Ericka), Trevor Don Robason, and Samantha Mei Robason; and one great grandson, Ethan James Robason.
D.O. was buried at Green Acres Memorial Park in Cleburne, TX in a private ceremony.
1 Thessalonians 4:13-14 – Brothers and sisters, we do not want you to be uninformed about those who sleep in death, so that you do not grieve like the rest of mankind, who have no hope. For we believe that Jesus died and rose again, and so we believe that God will bring with Jesus those who have fallen asleep in him.