Barber Shop to get historical marker
By Gladys Spring
Jack Anderson established his barber shop in 1926 and through the years it has been a landmark in Friona. Three barbers have plied their trade in the small shop and to think of Friona without "The Barber Shop" is almost like thinking of Friona without the school.
Mr. Anderson started barbering when he went to work for the XIT ranch. He said the youngest cowboy got the jobs no one else wanted and he was the youngest. He learned very well because he earned a living at it until his death in 1968.
He hired a shoeshine boy in the 50's, nine-year-old Lee Gibson. Lee went to barber school in Amarillo following graduation from high school and returned to cut hair beside his mentor. After Mr. Anderson's passing he purchased the shop and ran it until 2011.
A local young man named Chuck Mills had expressed an interest in the Friona business so when Lee decided to retire the shop was bought by Mills who runs it to this day.
The smooth transitions in the longevity of the shop makes the designation of state Historical Business possible.
On Sunday August 14, 2016 at 3 p.m., the Parmer County Historical Commission will host a dedication ceremony at the barber shop to honor the occasion. The barber shop is located at Main and 6th Streets.
Interestingly there will be family from all three owners to help celebrate the marker. Mrs. Nickie McMillan, niece of Jack Anderson, Sylvia Gibson, widow of Lee Gibson, and the Chuck Mills family will be in attendance.
The public is cordially invited and encouraged to attend this historic event. Refreshments will be served at the Parmer County Heritage Museum just down the street and all are invited.
Another good historical day in Parmer County.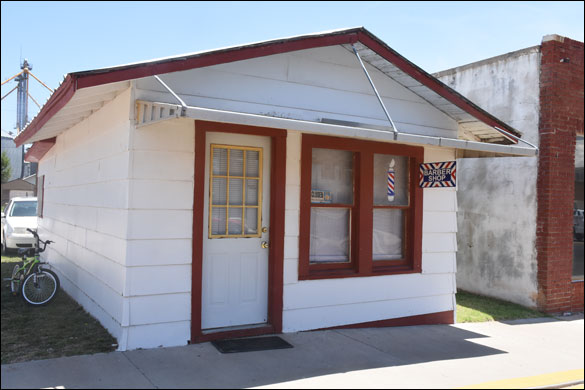 ron carr photo
Chuck's Barber Shop building will receive a historical marker to be dedicated Sunday August 14 at 3:00 p.m. The public is invited to attend. See the story by Gladys Spring for more info.